Sport Relief's Top Dog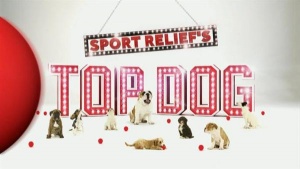 Host
Co-host
Matt Williams (commentator)
Broadcast
BBC Events Productions London for BBC Two, 3 to 21 March 2014 (15 episodes in 1 series)
Synopsis
Three celebrity owners and their dogs go head-to-head in fun challenges, culminating in "The Bark Off", an obstacle course.
Regular challenges included one where the owners would throw something into a pool, the dog swims to it and brings it back. There was something sporty, such as bringing back the ball from a coconut shy, and something testing control, like asking the dog to sit and stay on a particular point.
Played in teams of three with a celebrity captain, the show led up to The Bark Off. It was a standard dog agility course - hurdles, plastic tunnel, that weaving thing. The course was themed as a tour of the UK.
The humans were described first on this show, and the team captain received most namechecks.
Champions
"Team Gail" - Gail Emms and Raffa, Ian and his dog Maisy, Geoff and Buzz
Title music
Burt Bros.
Trivia
A tie-in with the Sport Relief charity.
Filmed at Maidstone Studios.
Web links
See also
Weaver's Week review with Superstar Dogs.
Feedback