Sports Anorak of the Year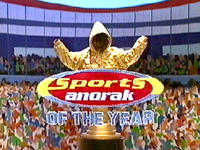 Host
Broadcast
Cactus TV for UK Gold, late 90s (64 episodes in 2 series)
Synopsis
Weird sports quiz. Three self-titled anoraks try and win as many points as possible by answering questions asked by Rory.
There were four rounds and most of them use the big electronic Board-o-Doom. They included finding answers to questions in a huge row of numbers; a round where, instead of giving the answer, you give one of answers on the board that are in some way connected with the answer; and the final round where you can get questions for differing points but if you get it wrong you give them to somebody else.
Admittedly some of its ideas are original but not even Rory McGrath can put enough pace into the show (and is more serious than he is in They Think it's All Over) and NOBODY other than the contestants are likely to get the answers right.
Feedback