Spy School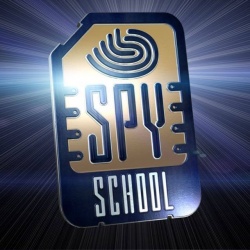 Host
"Agent J" (played by Jack Finch)
Co-hosts
"Agent L" (played by Becky Naidoo)
"Goldfist" (played by Steve Furst)
Broadcast
Zodiak Kids Studios for CITV, 7 January 2018 to 24 February 2019 (27 episodes in 2 series)
Synopsis
Two children train as spies, then put their physical and problem-solving skills to the test.
Under the watchful eye of their spy handler, Agent J, the cadets solve puzzles and break codes in order to guide field Agent L around London's landmarks. The agents will all meet up for the final mission. Their aim? Track down and stop the evil "Goldfist" from taking over the world.
Each episode follows a pair of cadets as they take on a mission. To start, they need a "mission chip", and that's at the end of an indoor assault course.
Then it's up into the lift, ending up inside the Big Ben tower. Agent J is waiting for them, and he'll guide them through the mission. Throughout, they'll communicate with Agent L, somewhere out in the world.
Each show takes a tourist attraction in London (Kew Gardens, the Zoo, the Eye...) and builds a story from it. Embedded in the story are some puzzles, to be solved on a touchscreen computer. The team can make these easier, if they've completed the assault course quickly.
The stories all involve Goldfist, a Massive Evil Overlord™ who wants to accumulate power and money for himself. Goldfist doesn't have a clue what to do if his plan works, and is undermined by his own successes.
The cadets can stop Goldfist's plan, by completing a physical task at the tourist attraction. Find detonators, unscramble a complex tangle of things, press buttons in a certain order. Succeed in this and solve two of the earlier challenges, and our cadets graduate Spy School, and are awarded mission chips of their own. Fail, and Agent J encourages them to try again...
We can assess Spy School as a pure game show for children, and it's good - the challenges are appropriate for the 13-year-olds playing, brisk enough to hold the attention of 7-year-olds, and the show begins and ends with a spectacular.
For our money, Spy School works best if we think a little differently. Here is an espionage caper, in which children like you are the hero. It's a spy drama, with a cartoon baddie, joke henchpeople, and a little education smuggled in. Within this drama are some puzzles, and a small prize at the end.
Inventor
Created by Shaw Media Ltd
Title music
Steve Brown, credited as "Composer"
Trivia
The computer in the show is the "Biologically Enhanced Network", BEN for short. This may be a nod to series producer Ben Spiteri.
Web links
See also
Feedback