Stars in Fast Cars
Host
Richard Hammond and James May (Pilot)
Broadcast
BBC Two/One 10 July 2004 (Pilot: as part of Sport Relief)
BBC Three, 25 September 2005 to 8 February 2006 (Series: 10 episodes in 1 series)
Synopsis
Various celebrities compete at motoring challenges, including recreating movie stunts and racing modified armchairs.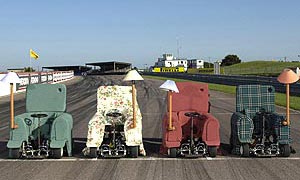 Our gran would love one of these.
This made for some great moments, including Car Skittles, a stunt where the celebs had to drive on to the back of a moving lorry, before letting them all drive a Ferrari - with a bathtub of water attached to the back which they weren't allowed to spill. They could be asked to race anything, from the aforementioned armchairs to Formula 1 cars. The winner got to throw the car of their choice at either a coconut shy or a giant target.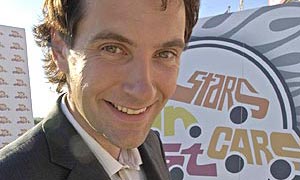 Host, Dougie Anderson
Dougie Anderson's hosting is a little unrestrained, but overall, the show just about avoids being classified as car-crash television.
Originally based on a one-off show made by BBC2's Top Gear team for Sport Relief 2004.
See also
The Getaway Car, another Top Gear spinoff.
Feedback