Sweethearts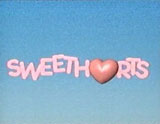 Host
Co-hosts
Announcer: John Benson
Broadcast
Anglia in association with Createl Ltd. for ITV, 31 March to 23 June 1987 (13 episodes in 1 series)
Synopsis
Three couples describe how they met. A panel of three celebrity guests had to decide which couple was genuine, not actors recounting (true) stories sent in by the show's viewers. The real sweethearts won a romantic holiday for turning up.
It was largely panned, despite the publicity gained from "the Sweetheart Sleuth" Larry Grayson's big comeback. One of the main bugs was that (unlike Tell the Truth) there was only one reveal, with one game taking up the entire 30 minutes. It was described in the TV anthology "The Box of Delights" as, "'Sweethearts', the 'who's telling the truth about their romance?' show, that was supposed to be Larry Grayson's comeback, but was more of a coffin". In an interview in the later book, "The Gameshow Handbook", Grayson agreed, citing the main reasons as, "They put us up against 'Eastenders' and it was made in Norwich, miles from anywhere, in the middle of the country".
Inventor
Moore, Mardell and Lyons
Theme music
Ed Welch
Videos

The very last episode.
Feedback