Television Top of the Form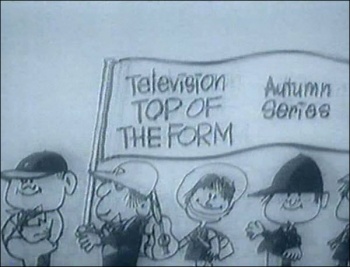 Host
Robert MacDermot and David Lloyd James (1954)
Geoffrey Wheeler (1962-75 and 2006)
David Dimbleby (1962 - spring 63)
Paddy Feeny (autumn 1963 - 66)
John Edmunds (1967)
John Dunn (1969)
Broadcast
BBC Television, 25 April 1953 and 27 February 1954 (specials, as Top of the Form)
12 November 1962 to 10 August 1975 (199 episodes in 17 series + 6 specials)
BBC Four, 17 April 2006 (one-off)
Synopsis
This was the TV version of Top of the Form, the popular radio quiz for secondary schools. The contest was between two teams of four, with a requirement that the team members must be of different ages. The show initially had a rather unusual setup, involving a link-up between two separate schools with two questionmasters, one for each team.
Trivia
Although a regular series didn't emerge until 1962, Top of the Form was first broadcast on TV as a one-off special on 25 April 1953. An all-boys team from Marylebone Grammar School played an all-girls team from Sheffield High School. The experiment was tried again in 1954 with Lady Margaret High School for Girls, Cardiff, taking on Solihull School for Boys.
Judith Chalmers was originally lined up to co-present, but was vetoed by The Powers That Be on the grounds that a woman wouldn't have the authority required of a questionmaster.
Questions were set by John P. Wynn (1962), Boswell Taylor (1963-).
Until 1966, the show had two contests each year, a Spring and Autumn series. There was never a challenge match between the two series winners.
A full international competition was held in Transworld Top Team from 1967. There were also some one-off specials:
England versus Germany, 3 May 1965. Latymer Upper School, Hammersmith played Johanneum School, Hamburg. Produced jointly by the Second German Television Service (ZDF) and the BBC.
Top of the Form at Expo 67, 24 July 1967. A challenge match against the CBC's Reach for the Top.
Three Way Christmas Quiz, 25 December 1967. The two teams from the series final play the winning family from Ask the Family. Chaired by Robert Robinson, with Geoffrey Wheeler and John Edmunds the question-masters.
1971 Tenth Anniversary Match, 15 June 1971. Students of the Sixties play this year's champions.
Two bilingual matches against Paris, 18 and 25 June 1973. Yes, quizzing in French on primetime BBC1. Oh, l'optimisme européen des années soixante-dix.
Geoffrey Wheeler returned to present the 2006 one-off revival, which was between the two schools that had featured in the last-ever original show. The trophy was presented to the winners by David Dimbleby. This one-off show was very enjoyable and raises the question: why haven't they fully revived the show, more than 5 years on? Surely there are few enough really intelligent quizzes for young people nowadays and surely most schools would be as keen to compete as most universities are in University Challenge?
Theme music
"Marching Strings" by Marshall Ross, performed by Ray Martin and His Concert Orchestra.
Web links
Whirligig Snippet - partial script from a 1964 edition.
Memories of a 1972 match between Manchester and Stranraer
Opening titles from 1953 and 1973 in the BBC Motion Graphics Archive
Pictures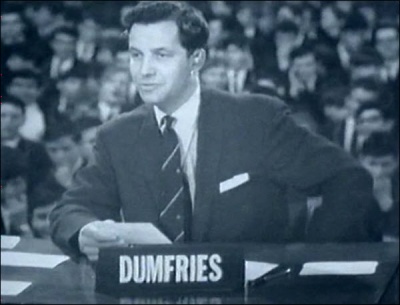 Geoffrey Wheeler handling questions for Dumfries
See also
Feedback