The 1% Club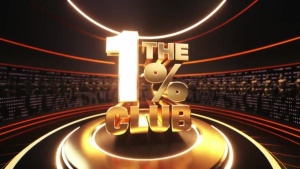 Host
Broadcast
Magnum Media for ITV, 9 April 2022 to present
Synopsis
One hundred people gather in a Salford studio. By the time they leave, someone could win £100,000.
The 1% Club is not a quiz. It's a test of logic, pattern recognition, quick thinking, and mental agility. The questions are observation and deduction, not knowledge.
Before the show, the producers researched the questions with the general public. They've worked out how many people could answer each question. The show starts with a 90% question - one that 90 out of every 100 people would get right. By the end, we're looking at a 1% question, answered by one person in a hundred.
Everyone in the audience has been given a notional £1000. Get a question wrong, and that money goes into the prize pot for the end of the show.
We start with some easy questions, and lose a few people - mostly those who can't work the tablet computers to enter their answer. Questions get harder - 80, 70, 60, 50%, then 45%, 40, and in 5% increments until we hit 5%.
Lee Mack banters with the incorrect answers, and encourages the remainder. The studio audience get 30 seconds to enter their answers - we see about 23 seconds of action, and Lee Mack slips in a one-liner to entertain those at home who have given up on the question.
As the game goes on, there's a sort-of lifeline. From the fifth question - the 50% question - players can "pay for a pass". They can pass on a question, but it'll cost them their notional £1000.
There's also an exit option. It's open to anyone who gets every question right, and still has their £1000 after the 35% question. These players can leave the game, and take their money home. This offer won't come round again.
Each player is lit by their own individual light: white if they're still in the game, dark blue if they're out, a not-quite-so-dark blue if they've paid for a pass. Can be very difficult to distinguish between the various classes of player, particularly in close-up shots.
The show continues, the questions get harder, and most contestants fall by the wayside. Lee Mack will talk to the remaining players, from a short conversation he can draw out their character and make us care.
After the 5% question, everyone remaining comes down to the studio floor. If the player hasn't needed their pass, and got everything right, they'll still have their £1000 - that money is safe.
The finalists individually choose - each can leave the game with £10,000 between them, or play the 1% question to split the entire jackpot. The jackpot is almost always £90,000 or more - only those who took the money halfway through, or got everything right, keep their money.
The 1% Club wears its influences lightly: it's as witty and inclusive as Only Connect without being as wilfully obscure. The "better than the average person" idea is familiar from Pointless, and this particular mechanic is similar to 2004 obscurity Beat the Nation. To gather 100 people in one location is a major achievement, seen on 1 vs 100 and All Together Now.
And The 1% Club proved instantly popular. It's a show you can play along, get some questions right, wonder why so many people got that easy one wrong. And it's a show that works as an entertainment, Lee Mack keeps the atmosphere light and the laughs flowing. The first episodes proved massively more popular than BBC1's acclaimed drama Killing Eve.
Inventor
Dean Nabarro and Andy Auerbach, credited as "Devisors".
Theme music
Twin Petes, credited for "Music".
Trivia
Sets of recording sessions in April 2020 and January 2021 had to be delayed as a consequence of the COVID-19 pandemic.
We heard some shocking stories about the marathon recording sessions, contestants not fed or watered, and made to feel guilty about leaving their place on the set. Let's hope these were teething troubles, because nobody performs well under those circumstances.
Answer to the sample question? If "Earth" has a "heart", then "Mars" will have "arms" - anagrams of the planet.
The first episode aired at 8:30, after a delayed Saturday Night Takeaway (it broke for a week for football). Subsequent episodes aired after Britain's Got Talent, around 9:30-ish.
The first episode also had an entirely cold open, without any title sequence. Subsequent episodes inserted a break screen to cover Lee's walk to the podium. The Dutch version had the courage to use the cold open. For our second series, they went back to the cold open; Magnum, please send your consultancy fee to the usual address.
Voted the Best New Show in this site's Poll of 2022
Web links
See also
Weaver's Week review and a quick comparison against the Dutch version.
Feedback