The Bridge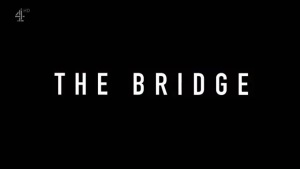 Host
Narrator: James McAvoy (2020)
AJ Odudu (2022)
Broadcast
Workerbee and Zeppelin for Channel 4, 11 October 2020 to 29 June 2022 (14 episodes in 2 series, 2022 as The Bridge: Race to a Fortune)
Synopsis
A Channel 4 press release said:
Twelve strangers have come together on the banks of a lake in the beautiful British countryside, with one thing in common – they want to win a life-changing sum of money. They know nothing about the epic challenge that awaits them or what they'll need to do to win the cash.
£100,000 lies on an island in the middle of a lake and the twelve must build an 850ft bridge by hand within 20 days in order to reach the prize. It may sound simple but a series of twists and turns along the way offer moral dilemmas, spark rivalries, and put their ability to work together as a team to the test.
If the team did manage to reach the island within 20 days, they must decide amongst themselves who deserves it most. The winner can then decide to share the money with one of the others.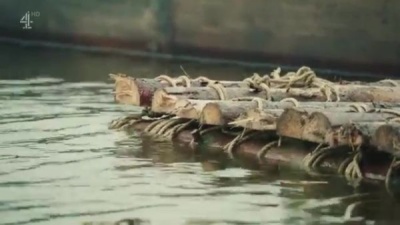 Lash lots of logs together with rope, put plastic boxes beneath to help float, drag them out to position.
The Bridge was not a masterclass in how to construct a pontoon bridge - or if any alternative design might have worked better. Indeed, the show went out of its way to not discuss the physical bridge.
Instead, The Bridge was all about the connections between people. It's a metaphor, you see, build a bridge between your heart and mine. Having picked their metaphor, the producers stuck to it like a limpet to a ship's hull.
The producers also threw in various distractions and diversions. Some contestants were sent off on overnight tasks, mostly to provide a suitable cliffhanger for the next episode. People arrived, people left, rations ran out. There were opportunites for sabotage, for someone to raid the pot and take money for themself.
As we'd suspected from the start, the team made their goal with moments to spare. They voted for someone to win, she chose to share her winnings with another good worker. A feelgood ending for the people who stuck with the show.
Not many people stuck with the show: 9pm on Sunday was a difficult slot, opposite premium drama on BBC1 and ITV, and ratings fell from 1.2 million to 880,000; the finale went out on Monday night to fewer than 600,000 viewers. The slow pace led many to call it "boring", and even we found it tepid viewing. Viewers who did like The Bridge really liked it.
Champion
Julie, who chose to share £80,000 with Sly.
Title music
Gosh, a long music credit: "Original music courtesy of Zeppelin Television, Audio Network Ltd, Chalk Music, KPM Production Music, Universal Production Music, EMI Production Music".
Inventor
Based on Spanish show El Puente, the format is owned and created by Zeppelin Television.
Trivia
Nothing to do with the card game bridge, nor with the Nordic crime drama.
Web links
See also
Feedback