The Common Denominator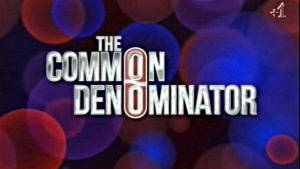 Host
Phil Spencer
Broadcast
Remarkable Television for Channel 4, 18 February to 19 April 2013 (39 episodes in 1 series + 1 unaired)
Synopsis
Across three rounds, contestants are invited to find the link between two apparently unconnected items. The day's most successful player then tries to win a cash prize of up to £10,000.
If you can help us to expand this entry, please provide as much information as possible, using the feedback form below.
Inventor
Armoza Formats. We've found the showreel to promote the programme.
Theme music
Marc Sylvan
Web links
See also
Feedback