The Exit List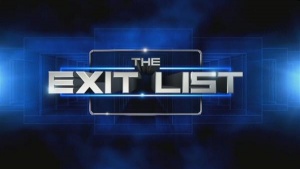 Host
Co-hosts
Voice of the Maze: Kait Borsay
Voiceover: Andrew Scarborough
Broadcast
Gogglebox Entertainment and Victory Television for ITV1, 10 January to 28 February 2012 (7 episodes in 1 series)
Synopsis
Contestants go through a giant 26-room maze that challenges them to memorize the answers to the questions they have to give in every room to win a cash prize of £200,000.
If you can help us to expand this entry, please provide as much information as possible, using the feedback form below.
Inventor
"Format created by David Grifhorst", according to the end credits.
Theme music
Ken Bolam and Nick Foster
Web links
The show publicised the hashtag #theexitlist.
See also
Videos

The very first episode.
Feedback