The Great Auction Showdown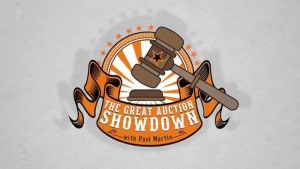 Host
Broadcast
STV Studios for Channel 5, 22 May 2023 to present
Synopsis
Paul Martin travels the country and takes on his fellow antiques experts and auctioneers in a series of challenges that test their knowledge and deal-making skills, before going head to head in the saleroom.
At the heart of the show is Accept or Reject, where the players try to pick three items brought in by the public. There's been a call in the local websites to come along to the Town Hall, and bring items and heirlooms and knick-knacks you might want to sell. Paul and his auctioneer opponent look at the items, and talk to the owners about some of the more interesting. Across the show, they'll accept three items and try to sell them for the owners.
To break up the programme, part two begins with Flip for Profit, where the contenders are randomly assigned some money (£50, £75, £100). They've half-an-hour to go around an antiques centre and find some item within their budget. The objective is to sell these items at auction for more than they pay for them.
The Jackpot Duel is the next fixed point, a little teaser around the middle ad break. Two vans pull up to the back yard, each contains something large and (potentially) valuable. Our contestants are asked a question about the local area, winner gets to pick their big item.
Before the sale, there's a twist. Each player can pilfer one of the other player's "Accept or Reject" items, bag the most valuable lot and sell it under their account.
The auction is the final part of the show. Five items each – three from the public, one from the shop, and one from the jackpot duel. Not everything will sell – have our contenders pitched their reserves too high? Scores are kept after each item, so we never lose track of who is scoring and how much they've made. And scores tend to be big and positive – four items will make a profit if sold, the only possible loss comes from the item bought in the shop.
Each day's contest is complete in itself; they also keep score across the week, to hook viewers into watching again tomorrow. Thanks to the skill of the participants, and a little careful editing, the week's result is usually decided on Friday.
It's a pleasant show, if a little unoriginal - owes a lot to Bargain Hunt and Flog It and Cash in the Attic and the grandaddy of them all Antiques Roadshow. And, for a certain type of viewer, that's perfect television.
Theme music
Lawrence Oakley
Trivia
Commissioned in June 2022 for a whopping 80 episodes, the show aired in the 4pm slot opposite Tipping Point on ITV almost a year later. Lasted three weeks in the schedule mostly because the show was late into production and they were still filming episodes while the show was airing.
See also
Feedback