The Sandwich Quiz
Host
Broadcast
TVS for ITV, 2 January 1982 to April 1986 (as part of No. 73)
Synopsis
Good god, how've we managed to not have a write up for this one for so long? One of the best quizettes on Saturday morning kids telly. The Tokster would kick off the proceedings behind the kitchen diner by slamming the marble-effect work surface (Formica? Polyurethane? We can't be sure) and rambling the lyrics, as per below, while a tinkly Cockerney piano jingle went on in the background.
There would be two contestants astride the host Dane, usually people that happened to be hanging around the rest of the show (Gary Wilmot, the bass player from Big George etc.) Contestants answered a general knowledge question for a slice of bread, tapping the hilt of their butter knives on the counter as buzzers (this was in the days before Health and Safety). Then they had to go for one of various fillings, each one representing a different category (in some series, at least). The player who completed the most sandwiches by the end of the game was pronounced the winner.
Kind of like an edible version of DLT's Give Us a Break on Radio 1. Quack quack oops!
Theme music
"It's the daring, dazzling, death defyingly dull, devastatingly dangerous, delectable, delicatessen-able, divinely decadent Sandwich Quiz!"
Trivia
Dawn Lodge (aka Andrea Arnold), the roller-skating animal lover from the No. 73 crew, went on to win the award for Best Director for her short film Wasp in the 2005 Oscars.
Web links
The ultimate Number 73 page
Pictures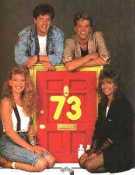 It's Number 73, then.
Feedback