The Slammer
Host
Ted Robbins as The Governor
Co-hosts
Announcer: Steven Ryde
Lee Barnett as Jeremy Gimbert
Dave Chapman as Peter Nokio
Ian Kirkby as Mr Burgess
Melvin Odoom as Melvin
Broadcast
BBC One, 22 September 2006 to 20 June 2008 (28 episodes in 2 series)
CBBC, 10 September 2010 to 26 July 2014 (48 episodes in 4 series, 2013-14 as The Slammer Returns)
Synopsis
OK, so you thought the synopsis for You Should be So Lucky! is odd - wellll, you haven't heard anything yet.
Mastermind's official warm-up man Ted Robbins plays the role of a Governor of a showbiz prison where the incarcerated variety acts have to perform in front of the Parole Board of 50 children who then decide which of the four acts gets released from the Nick.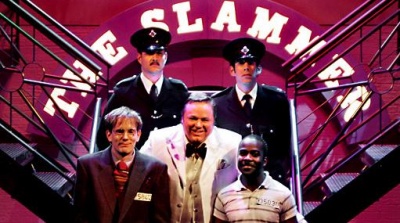 The Slammer is a rare place where Ted Robbins' jokes aren't the only criminal thing
Various prison officers ask the children for their opinions of the performances in a Dixon of Dock Green style. The kids all seem to have some kind of clipboard even if they're just saying "Brilliant!", "Amazing!" etc.
Despite the bizarre concept, the acts are great to watch and the production values are very solid with a cleverly matched set and lighting scheme that makes the whole thing horribly plausible. The weird scoring on the clapometer is perhaps something to tweak (why 107.4?) but overall this deserved a long spell on BBC One.
Catchphrases
"If you can't sing, dance or rhyme, don't do the crime".
Theme music
Andy Blythe and Marten Joustra
Trivia
The Slammer was voted Best Entertainment Programme at the 2007 Children's BAFTA awards.
With the exception of Ted Robbins, every single other cast member had worked on Dick and Dom in Da Bungalow.
Web links
See also
Feedback