The Tennis Elbow Foot Game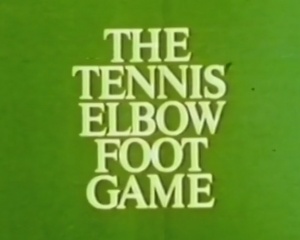 Host
Broadcast
BBC Home Service and Radio 4, 4 October 1966 to 7 May 1968 (39 episodes in 2 series)
BBC2, 14 July to 3 October 1968 (12 episodes)
Synopsis
A competitive word association game. The chairman throws out a word, such as tennis. One panellist comes up with a word linked to tennis, such as elbow, as in tennis elbow. The other player must link to elbow, for instance foot, as in parts of the body. Points are won if the opposition cannot come up with a word within the short time limit, if they could not convince the chairman of a link between their words, or if they repeated themselves. Scoring was as per tennis, with games and sets.
The inventor, David Hatch, used the idea again for one of the rounds on I'm Sorry I Haven't a Clue, the antidote to panel games. In their version, the object is to provide words that are completely unrelated to each other.
It had been reported (for instance, in many of the obituaries of Hatch) that no episodes of The Tennis Elbow Foot Game survived in the BBC Sound Archive. However, reader Mark McKay looked into this and says that at least one does exist in the archive (the 16 January 1968 edition, with panellists Sheila Hancock, Olga Franklin, Paul Jennings and Norman Hackforth, and a guest appearance by Kenneth Williams and Hugh Paddick). Even more excitingly, he adds "I've also got a little over a dozen episodes issued by the BBC Transcription Services". We dare say, however, that the BBC / Radio Circle Treasure Hunt would still welcome any off-air recordings.
Inventor
Feedback