Think Tank (2)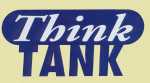 Host
Mickey Hutton
Co-hosts
John Sachs (announcer)
Broadcast
Action Time for Channel 4, 16 October to 22 December 1995 (50 episodes in 1 series)
Synopsis
When choosing a game show host, going for someone with a thicker Geordie accent than Michael off of I'm Alan Partridge is an interesting one to say the least.
The game was played by two teams answering general knowledge questions in order to fill in a computer graphic board with various 'tanks' on it. Each tank represented a different category of questions, and being the team to complete a tank earned points. The first team to 100 points won the game.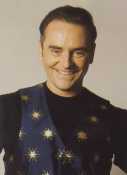 Host, Mickey Hutton.
In the finale, various topics would be given and the winning team was allowed to order the subjects according to their personal preference. Each tank required one more correct answer to complete than the previous one. If they completed all of the tanks, they won the grand prize of a CD player.
Key moments
In the "correct the last word of the sentence" round, Kevin Ashman, with a completely straight face (and as a result, hilariously), correctly responded "virgin" to the question: "Queen Elizabeth the First famously died a sturgeon".
Inventor
Stephen Radosh
Theme music
Simon Webb
Trivia
The show aired in the 4pm slot before Fifteen-to-One, which the following year would be monopolised by Countdown. It got a repeat run during early 1996 at 6.35am before The Big Breakfast.
Feedback