Timeline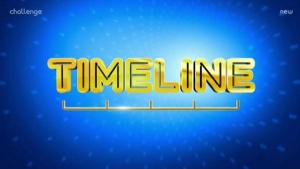 Host
Broadcast
Whizz Kid Entertainment for Challenge, 6 March to 8 May 2014 (10 episodes in 1 series)
Synopsis
Three teams of two compete against not only each other but also an ever diminishing time limit in order to bank thousands of pounds. Racing against the clock, couples attempt to place a series of events in the right order.
After the introductions, one of the teams picks a category from a selection of three broad titles. Their category holds a question, five years, and five items. The task is simple: put the item on the right year to answer the question.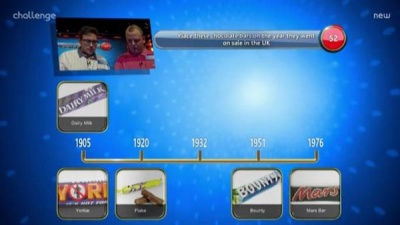 For instance, a team might see five years, five brands of chocolate, and the question "Put these chocolate bars on the year they were first sold".
Round two is similar, though the years are replaced by numbers (often, amounts of money). With one point for each correct answer, we lose the players with the lowest total score.
For round three, the remaining teams pick a year from a choice of three. They're given six events, and six months, and are to pick which three happened during that year. Two points for each right decision, in or out of the year, and there are always precisely three options. The team with the lower total score leaves us.
Time has diminished in each round - 60 seconds for the first, falling to 45 and 30 seconds in later rounds. For the final, the teams are spotted 15 seconds, and add 5 seconds for each point they had in the game so far. With this time, they'll see video clips, and place them on a timeline of six consecutive years. Again, there are broad categories to help the teams play.
A prize of £500 is awarded for each correct answer in this final round. The players have one final question to double their winnings. It's a round one question with one piece missing: they'll see the question and the years, but not the options to place.
Timeline used touch-screen technology, players dragged the pictures to the right place on the line. An off-screen question determined order of play in the first round, with the lowest total scores going first in subsequent rounds; ties were broken by speed in the prior round. The show's presentation was compromised by advert breaks appearing in the middle of each round.
This was meant to be Challenge's big breakout show and they put a lot of effort into promoting it, but you can tell how that panned out from the fact that the original 10-episode run was all it ever got. The format might work as a lunchtime show, but at 9pm it was seriously underpowered and outgunned.
Inventor
David Sankey was credited as "devisor".
Theme music
A credit for "Music" was included; thanks to BSkyB's policy of shrinking the credits to an unreadable size, we literally cannot see who got the credit.
Web links
From Bother's Bar: taping report and show discussion.
See also
Feedback