Touch the Truck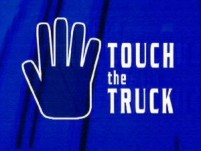 Host
Broadcast
Vascha Productions for Channel 5, 11 to 15 March 2001 (5 episodes in 1 series)
Synopsis
"The great thing about the system at Channel 5," says Chris Shaw, the news and events commissioner responsible for bringing Touch the Truck to our screens, "is that it allows me to commission things that are ostensibly game shows."
It also allows the channel to make itself a complete laughing stock.
Touch the Truck is a typical attempt by people who don't normally commission/make game shows to do a game show. Such people think that game shows should be all about (a) tacky sets and lighting, (b) fabulous prizes, (c) cheesy catchphrases by the bucket-load, (d) real "characters" as contestants.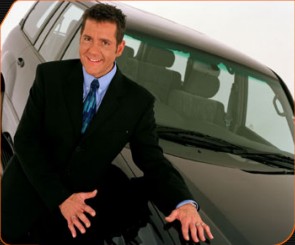 Dale. Touching a truck. Do you see?
With the prospect of truckers, tonnes of throbbing metal and 20 members of the public who can't run away, they've been able to wheel in Dale Winton, the consummate professional, to try and generate mass hysteria at the Lakeside Shopping centre. Mass hysteria has its place - Alan Dedicoat will no doubt agree - but 8pm on a weekday in Thurrock is not it.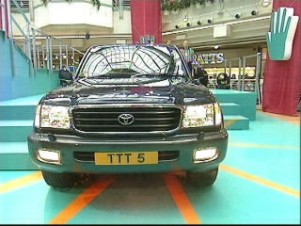 A truck. Actually, a 4x4 but we're not Jeremy Clarkson. Thankfully.
The concept comes from a US idea called Hands on a Hardbody (why is Dale doing this, again?). Basic rules: There is one truck. There are 20 contestants. You will touch the truck. You will not sleep. You will get a ten minute break every two hours and a fifteen minute break every six hours. Last one touching the truck wins the truck, simple as. Sounds crap. And it is crap! But for some reason, we were compelled to watch it, if only for research purposes.
The programme is more like a documentary on the effects of trying to stay awake as long as possible. People going mad is quite interesting, although there wasn't as much of that as perhaps the producers were hoping for. Of the half hour highlight show, about ten minutes is Dale chatting to the contestants who are still awake, another ten minutes are 'highlights' of the last 24 hours (basically people being eliminated) and the other ten minutes is split between Dale talking to the resident US champion and various experts. And at the end of each episode we see the latest odds on people winning.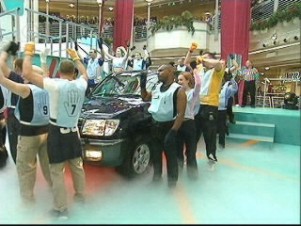 The 20 contestants start to touch the car.
Should you want to watch it 24/7 you could do on the website which was reasonably well implemented although it had a message board with flippin' huge font sizes. The web coverage is basically highlights of the last 24 hours mixed in with live chat to the contestants and psycho analysis from various doctors, psychologists, experts and so on.
Whoever wrote Dale's script must be sexually repressed, because there were at least 10 gags implying the f-word per show ("lucky truckers", "totally trucked" etc.) as well as nudge-nudge phrases like "It's the most fun you can have with your right hand". Yerrrs...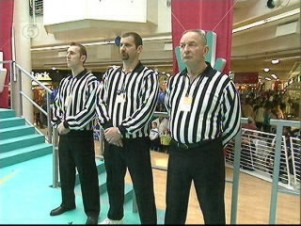 While if anyone tries to touch Dale...
Ultimately, the concept lost all credibility on day 2 when the favourite was pulled out of the competition against his own will for "medical reasons" whereas he looked and sounded perfectly fine. And it was more than a little amusing to find that the overall winner of the first (and, we presume, last) series was an anti-car environmentalist who was going to sell the 4x4 to fund his green policies for the next general election.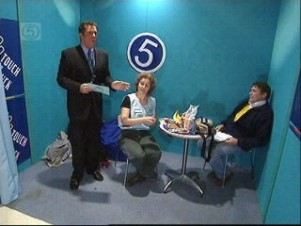 Dale interviews a contestant and their supporter ("co-pilot") during a pit stop break
The theme tune is completely nondescript. Dale Winton is possibly about the worst host they could have picked for it... and yet also perhaps the best host given how stupid the idea is. He's certainly very jolly but we kind of feel he doesn't really care. And the set is pretty much what you'd expect of a TV set plonked in the middle of a shopping centre.
Touch the Truck, then... It's trucking mediocre!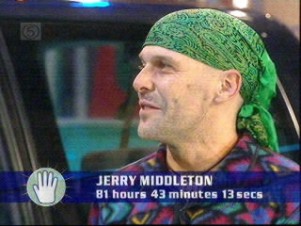 The eventual winner - a man who hates cars. Go figure.
Catchphrases
"Keep on trucking"
"It's the most fun you can have with your right hand"
"Lucky truckers"
Inventor
Based on a US concept called Hands on a Hardbody
Trivia
Jerry Middleton, the eco-politician who won the show, sold the £34,000 car and used some of the money to stand at the Kingston seat at the 2001 General Election. He lost his deposit, gathering an impressively low 54 votes. [1]
Feedback