True Love or True Lies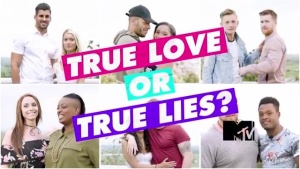 Host
Maya Jama (2018)
Dani Dyer (2019)
Co-hosts
Danny Dyer (narrator)
Broadcast
Lime Productions for MTV, 6 August 2018 to 5 November 2019 (22 episodes in 2 series)
Synopsis
Six couples live together in an Italian mansion. Over ten days, they'll go through various tasks and tests. At the end, one will be voted the "Perfect Couple", and win at least £50,000.
But there's a catch. Some of the couples are not real. They're fake, not dating at all. Each night, the couples vote off whoever they think is less amour and more amateur. Correctly voting off a false couple will sweeten the pot by £10,000.
To help detect the imposters, each day has a task. Winning the task will earn some information about the other competitors - it could be a one-on-one chat, it could be a direct clue. Couples can share this knowledge, but don't have to.
We hear you ask a question. "Six couples, one off each night, ten nights. Do they finish with ghosts?" No, to keep the numbers up, replacement couples arrive so that we see ten in all across the series. The prize is awarded by the eliminated couples, from the time they were in the competition, and the final 24 hours where all couples are present.
True Love or True Lies was commissioned after Love Island became a smashing hit for ITV2. The two shows share a similar visual style, thanks to lead director Paul Newton. One obvious point of difference is that True Love or True Lies showed same-sex couples from the outset, in a way Love Island doesn't.
The sarcastic voiceover is from the mouth of Danny Dyer, the professional cockney hardman actor. Maya Jama is the face on screen, she is present for the nighly eliminations.
Some shows can build through word-of-mouth recommendations - Love Island and Big Brother are leading examples. By running True Love or True Lies every night, MTV made it difficult to get a huge social media following to go with the huge prize. They also recorded the episodes in advance, so viewers could not influence the outcome - we were passive spectators, not participants finding the final liars.
Champions
2018 Liv and Louis
2019 Poppy and Parisa
Inventor
Ben Crompton and Ben Riley
Trivia
The first series of True Love or True Lies was recorded in spring 2018. After Danny Dyer recorded his voiceover, his daughter Dani was part of the winning couple on 2018's Love Island. She joined Dyer as host for the second series.
One of the contestants on the second series, Grace Shush, would later voice Celebrity Karaoke Club's karaoke machine.
Premiered on MTV in the UK, episodes were repeated on MTV in Australia and Singapore within hours.
An American version of the series emerged in 2022, retitled as Love at First Lie. The host was Tori Spelling from many other Viacom shows, and the prize was US$25,000 per fake couple correctly spotted.
Web links
See also
Feedback