Trycar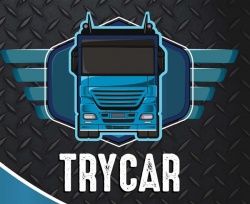 Host
Catherine Ayers (voiceover)
Co-hosts
Rusel Jones (examiner)
Huw Williams and Jon Tomos (instructors)
Broadcast
Rondo Media and Sony Pictures Television for S4C, 25 September 2016
Synopsis
Ever wanted to drive a lorry? Now's your chance.
Four car drivers from North Wales are given a taste of the world of truck drivers. None of them have ever driven a truck before, all want to get the lorry driver's licence to help their careers move up a gear.
They'll go for a training drive through Caernarfon's narrow streets, and along the bramble-fringed lanes of Anglesea. Let's hope the wing mirrors survive.
At Trac Môn, they'll try to reverse a lorry into a narrow parking bay, in the dark. And they'll load cars onto a car transporter and unload them later.
All of these tasks have a serious purpose. The best competitor will win further instruction and sit their LGV test. The assessment's taken by experienced examiner Rusel Jones, with input from driving instructors Huw Williams and Jon Tomos.
The show was a one-off, lasting an hour. Voiceover came from a familiar female voice from S4C, but we couldn't quite place who it was. We got a slight advertorial feel, the show seemed to glamourise lorry driving without pointing out the long hours and social costs. Trycar was an entertaining show, and it kept with S4C's remit to reflect the real lives of Welsh-speaking areas.
Champion
Mari Slaymaker
Trivia
The show's name translates as "Trucker".
Not to be confused with Trycars: Sioe Loris Cymru, an annual show giving coverage of the All Wales Truck and Transport show.
Web links
S4C programme page via BBC
Feedback