Unanimous
Host
Co-hosts
Voiceover: Cal Macaninch
E4 coverage (The Fallout): Paddy McGuinness and Olivia Lee
Broadcast
Fox TV for Channel 4, 27 October to 15 December 2006 (8 episodes in 1 series)
Synopsis
Based on a US idea, Unanimous (mercifully not Unan1mous like the American version) sees people locked in a bunker with a £1million prize on offer. All they have to do is decide between them who gets the loot - and the decision must be unanimous.
Votes are cast by each contestant taking a ball and selecting the name of one of the other contestants. The votes are counted until at least two votes stray from the contestant who receives the first vote (Note: a unanimous vote is still possible if one vote strays since the most popular contestant cannot vote for themselves). If no consensus is made, the money starts ticking down and the producers do things in order to, er, encourage them to make a decision. These punishments include the revealing of secrets, lie detector tests, and reducing the prize fund by £1 for every second they cannot come to a decision. Most effectively, votes are taken at certain points where the contestants choose someone to be an "Outcast", where the ultimate penalty is that they have to wear a horrid T-shirt with a red X on it - oh, and they can't win the money either.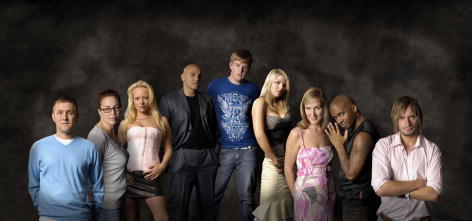 Left to right: Pip, Anna, Kelly, Kamran, Alex, winner Sian, Beverley, Lucifer, Andy
Outcasts can still vote and affect the outcome of the game. If any contestant - including an Outcast - leaves the bunker, the amount of the available prize is cut in half - although personally why that should stop anyone, other than the threat of a fellow contestant coming round for some "afters" post-filming, is a bit puzzling.
The problem with Unanimous is that the whole thing is a bit grim. The bunker set - though fabulously atmospheric - is grim. The concept of people squabbling over money is grim. The concept of contestant apartheid is grim. The host's demeanour is grim. A word that rhymes with brim is grim. If this show was on the Dulux Colour Chart, it would be Battleship Grey.
The ratings reflected this, with viewing figures well south of 1m by show 3.
Winner
Sian Howells, who took home £106,562.
Inventor
Lincoln Hiatt, Todd Nelson and JD Roth (who also hosted the US version)
Trivia
Channel 4 originally had this under the working title of The Chosen One.
Web links
See also
Feedback