Undeniable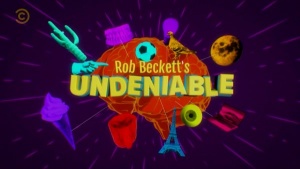 Host
Co-host
Jessica Knappett (narrator)
Broadcast
Monkey for Comedy Central, 29 September to 3 November 2021 (6 episodes in 1 series)
Synopsis
Four comedians try to find the facts from the fibs, and get what they know - or they don't know - onto the Wall of Facts.
A by-the-numbers panel show, featuring many of the stand-up comedians seen on other Comedy Central shows. Actually, make that "seen on other comedy shows", seeing as how Comedy Central is 80% Friends, 17% South Park, and 3% anything else.
The basic idea is to throw out some unlikely claims, and the teams are to work out which are true and which are truthy-but-false. "Half truths", the opening round, asks the pairs to identify the correct end to a statement from three options.
Later in the show, "Fact or Fib" is two statements in a Call My Bluff style, one true, one not. Which is which? Can the opponents riff off what's on their card and sound convincing, or will they just read out the bland statement?
"All About" mixes Jessica Knappett's voiceover with archive film and library music to conceal some facts, but where are they? And there's a Quickfire Buzzer Round to finish, because it's a panel game and every panel game has to have a quickfire buzzer round.
The "best" facts, as judged by host Rob Beckett, are put on the Wall of Facts behind him.
Smart-alec panel game is a competitive market: QI is an established brand - and within three minutes of Undeniable starting, someone said it's not as entertaining as QI. Only Connect is a colossus in the proper quiz area, and Undeniable isn't as rigorous or as unpredictable. At worst, it's Rob reading out a presentation we can read, and adding very little insight.
At best, it's mildly diverting viewing, reminds us of the "factoids" on Steve Wright in the Afternoon. Random facts to make us go "ooh!", offered without context or explanation, perhaps by people who couldn't add context or explanation if we asked.
Theme music
Sitting Duck Music & Media, credited as "Title music"
Trivia
Sometimes billed as Rob Beckett's Undeniable.
Web links
See also
Feedback