Vanessa Feltz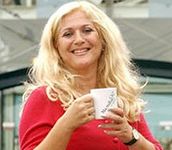 Biography
Born and raised in the more affluent parts of North London (Islington and Totteridge), Vanessa Feltz attended the posh Haberdashers' Aske's public school and went on to gain a first class honours degree in English from Trinity College, Cambridge. She became a journalist, writing for The Jewish Chronicle, Daily Mirror and a sex advice column in Men Only before becoming the celebrity interviewer on The Big Breakfast.
Vanessa is undoubtedly most famous for her eponymous US-style daytime talk shows in the latter half of the 1990s, first on ITV and then on BBC1. After The Vanessa Show was axed amid allegations that some of the guests were actually actors, she re-emerged into the public eye via a semi-breakdown on Celebrity Big Brother. She went on to become the early morning presenter on Radio 2, mid-morning presenter on BBC Radio London, host of a relaunched Vanessa Show on Channel 5 and a general celeb-for-hire. She left the BBC in 2022 and now hosts on Talk Radio.
She was engaged to Ben Ofoedu (the former lead singer of Phats and Small) between 2006 and 2023.
Web links
Feedback