Weaver's Week 2011-09-11
Last week | Weaver's Week Index | Next week
In our Big Brother Scrapbook, published a year ago, this column wrote,
"We would learn about the human condition in the longest and greatest social experiment yet played: a whole generation that grew up with Big Brother as part of their social fabric, a touchstone that everyone of a certain age knew. By 2010, most contestants had spent their formative years in Big Brother's culture."
Though the psychologists have long departed, and even lab assistant Beaker has left for new challenges elsewhere, we reckon that Big Brother can yet tell us things about society. Here are the experiment's lab notes for days 4052-4073.
Initial for Channel 5, from 18 August
There were changes on screen. Davina McCall no longer hosts the live eviction shows, she's been replaced by Brian Dowling. Ever the optimist, we reckon that Brian's interviewing technique is improving with practice, though he's not really auditioning to be the new Paxman.
The highlights show editing has adopted a different tone, with a much less strict approach to chronology. It's acceptable to have some parts of a story narrated in retrospect by the participants, to set some of it to music, and to include flashbacks from previous days to help with context. All of this is fine, though we're sad to see less of the fabulous camerawork that tells a story in one shot.
"While we rebuild after the riots, we must remember that life is not all doom and gloom. We need to crack a smile now more than ever. That's why we're DELIGHTED Big Brother is on its way back." — Daily Star editorial, 14 August
Big Brother has returned on a new television channel. Channel 5 is owned by Richard Desmond, who also owns the Daily Star, the Daily Express, OK and New magazines. He also owns a range of magazines commonly described as "pornography", though Mr. Desmond disputes this classification. His media holdings also include a number of television channels that exist solely to objectify and exploit women.
If we were to believe the reports in the Desmond media, the programme would be hosted by Sheryl Cole from Popstars: The Rivals. At various times, contenders were reported to include Andy Gray, Ricky Hatton, Chelsy Davy, Charlie Sheen, Amy Childs, Amy Winehouse, Snoop Dogg, Mike Tyson, Rachel Uchitel (the paramour of Tiger Woods), Katie Price, Peter Andre and/or his brother, and a centre-fold in a smut-mag (someone else's, not Mr. Desmond's). Oh, and Lembit Öpik.
In the event, the stopped clock managed to predict one name correctly. Amy Childs turned up, she's also a columnist for New. Kerry Katona (columnist for OK) was first in, and they were joined by Darryn Lyons. He's a paparazzo, and is responsible for many of the snatched photos of minor celebrities that help OK and the Daily Star fill their pages, and create careers for the likes of Miss Childs and Ms Katona.
"Rubbishy newspapers containing almost nothing except sport, crime and astrology"
Also competing were a veteran of Big Fat Gypsy Wedding, two young men who we still don't know after watching the show, celebrity haircuts Jedward (competing as one player), proper international celebrity Tara Reid, and two Famous People's Wives. Pamela Bach used to be wed to David Hasselhoff, and Sally Bercow is still married to the MP for Buckingham.
And that was the excuse for other papers to put their oar in. See, John Bercow (Sally's husband) isn't just any old MP, but is the Speaker of the House of Commons. In strict protocol, that makes him the second-highest commoner outside of religious orders, behind only the Prime Minister. But Mr. Bercow is not popular, the Daily Mail never passes up an opportunity to make personal criticisms of the way Mr. Bercow does his job. Sally Bercow made exactly this point before she even got in, telling Brian that she wanted to "stick two fingers to the establishment."
There's a faint whiff of hypocrisy here, because Sally wouldn't have been invited to the party if she hadn't been married to the Speaker of the Commons. For all that she wants to be her own woman, that Mr. Bercow is more than happy for her to do her own thing, she's slightly exploiting her connections by marriage for her own ends. However, this is so tenuous, and the cause she's doing is one she so passionately believes in, that we can argue that Sally is using the material fate has handed her.
All of this resulted in lots of publicity for Sally Bercow in the rest of the press, particularly a hatchet job from the Hell on Sunday that was equally predictable and ludicrous. Lest we forget, the Daily Wail gave more coverage to the first month of Big Brother than any other organ, back in summer 2000, and it's good to see that some things don't change. Associated Newspapers still gives the show the oxygen of publicity, but now it's feeding one of its closest rivals. But all this publicity came to an abrupt end when Mrs. Bercow was eliminated from the show after a week.
Coverage in the serious press stopped, especially in the rag that Mr. Bercow had recently described as a "sexist, racist, bigoted comic cartoon strip". Maybe he's got a point: Big Brother has become something of a comic in recent years. Lady Sovereign was Minnie the Minx, swapping a pea-shooter for her verbal pellets. Ben Duncan was portrayed as Lord Snooty, the modern version, a rich kid who would solve any problem by throwing money at it. Sam Pepper tried to be Dennis the Menace, a lovable scamp. This year, we've had Jedward, who are Cuddles and Dimples writ large.
"All history was a palimpsest, scraped clean and reinscribed exactly as often as was necessary."
Online commentary has been part of the Big Brother experiment from the beginning, generally through online streaming. This wasn't offered for the 2011 run, and the Speak Your Branes forum was over-run by a small number of people making an awfully big racket. "We've all got past people sleeping," said Channel 5's controller. This may be true, but it's a complete red herring.
The value of streaming is to question the narrative chosen by Big Brother. Highlights on the The Facebook simply aren't the same, they're chosen by the producers. Streaming allowed a more rounded impression of life in the studio. Even so, once it became clear that the producers weren't going to change their minds, the campaign became a waste of everyone's time, and entirely tiresome to those who wanted to get on with the show.
It felt that Channel 5 treated "1984" as a handbook, not a warning; our notes treat it as a parallel. We do have sympathy for those fans who found their pages and groups on The Facebook amalgamated into Channel 5's version of events. People write down their opinions, form little communities away from C5, only to find it's merged into the production staff's group, and The Facebook doesn't care. If all accepted the lie the Party imposed – if all records told the same tale – then the lie passed into history and became truth.
Some tasks were created to promote certain images. For instance, Cuddles and Dimples got a large number of tasks to do; they may have been punishments on the surface, but they also served to give the quiffed duo a lot of screen time. Some tasks came from the Channel 5 production office. There was some cross-promotion for a Channel 5 chef, and actual product placement (complete with that PP logo) for a movie.
Some of them were interesting from what didn't happen. The Daily Express spent a very long period putting across the conspiracy theories of Mr. Mohammed Fayed about the death of his son in a car crash some years ago. An inquest eventually found that Dodi Fayed, and his paramour Diana Wales, had been unlawfully killed, and attributed blame to the actions of paparazzi. Mr. Fayed was invited into the Big Brother studio, where he appeared to refrain from confronting Mr. Lyons about the actions of paparazzi. We can't say that he didn't, because uncut footage was not made available.
After the opening week, Celebrity Big Brother was the usual cornucopia of strangeness. Mohammed Fayed looking over Tara Reid like an uncle who makes nieces feel uncomfortable and they're glad when he's gone. Amy Childs explaining that "Essex is mainly orange". Darryn Lyons showing off his plastic abs. Pamela Hasselhoff-no-more proving that she's only been booked for being someone's ex-wife. Jeffy (or was it Jamie?) pulling a sweat prank on Mr. Lyons. But mostly, this was The Jedward Show: without that pair, the programme would have been far less. Love 'em or loathe 'em, we couldn't keep our eyes off 'em.
Big Brother's Little Brother and Big Mouth were amalgamated into a nightly show, Big Brother's Bit on the Side, hosted by Emma Willis. It combined bits from both sides: a comedy opening, a panel of celebrities and contestants from previous series, and the traditional insistence that the producers would always control the flow of conversation. For instance, Sam Pepper and Shabby Katchadourian both wanted to portray Mr. Lyons as a pitiful figure, but host Emma Willis insisted on sticking up for the series' pantomime villain. Save your breath, Emma: to be a Marmite figure, someone's got to love him.
"There will be no thought"
Compared to last year's civilian series, Celebrity Big Brother lacked depth. If there were deep and meaningful conversations shedding light on the human condition, if any of the contestants is steeped in Arts or Culture or Science or thinks in complete sentences, then we missed it. We found ourselves wondering what would have happened had Laurie Penny, a columnist for the New Statesman, accepted the offer to join the show. She wrote, "I actually believe in something bigger than myself, and I like to think that the people who read this blog do, too." And then she wrote some more, and we thought, we can't improve on this.
"There is a banality at play in the British press that makes me more uncomfortable the more of it I discover. It's a banality that's inimical to the sort of reasoned, sensible debate we desperately need in these nervous times. It's not about celebrity culture, and it's not about 24-hour news cycles, though it has something to do with both, and it infects everything. It's about speed of turnover, a dull hunger for comment, the privileging of celebrity above content when it comes to argument, a culture that would rather watch people unravel than listen to their ideas, a culture that would rather bitch and carp spitefully amongst itself than actually try to change the world."
And then we read a piece by Victoria Coren, another wonderful writer who we've a lot of time for.
"The fascinating human dynamics – possibly also the ethical arm-wrestle – can't work when the people are all exactly the same. I mean, not EXACTLY the same, obviously. But all of a type. All the women seem to be surgically-enhanced, froth-culture, possibly charming but obviously ditzy. The male model isn't so different. The macho traveller chap is perhaps a little different, but not massively so. He's still from reality TV, like Jedward. And there's a paparazzo who's near these people all the time anyway. I'd imagine they all like to talk about the same things, have the same life goals, would probably be friends anyway.
"Who is the serious one? Who's the intellectual? Who's the wise old man or woman? Which one has read books? Which ones hates group socialising or popular culture? Which one would never be in Heat magazine? The line-up is crying out for a Moira Stewart, a Ken Livingstone or a Brian Sewell."
We'll treat that as Victoria's application for Celebrity Big Brother 2012. And then we read that Sally Bercow has signed up as a columnist for the Daily Star Sunday.
Our new, happy life continues; there will be a further laboratory report in November.
Heat 10: UCL v York
Useless fact of the week: UCL appeared on the top shelf of heat 10 last year, and won their game. And, golly, a woman on the show. This hasn't happened in weeks.
York begin by saying "Churchill" a lot; Thumper doesn't reply with "Oh, yes" until the last time. UCL get going with a starter, but fail to convert any of their bonuses. Lots of people began new jobs, new schools today: microblogger GirlaboutBath speaks for many: "Need to build my stamina up for this working thing. No University Challenge tonight, instead my brain can only cope with Four Weddings!"
Shall we take a round of The Dinosaur Cheese Interlude? It's a T Rex, allowing UCL to stretch their lead, it now stands at 60-20. The fashion police are out in force. DuckLucy: "Dude on university challenge wearing a Naruto headband around his neck. Ended up explaining this to mother. Only prompted more confusion." Apparently, it's got significance in the world of anime, about which we know approximately nothing. An awful lot of other people remember him from Pointless earlier in the year. UCL pick up a missignal on a question asking after "myosis", that's understatement for comic effect and not a disease deadly to rabbits.
We've reached the audio round, no-one knows the music used in Tom and Jerry's "Cat Concerto", and UCL leads by 95-60, and Binortheast is pre-empting next week's Week. "Is Red or Black really so bad that I am tempted by university challenge...?" More classical music from the cartoons in the audio bonuses, and Johnmcmahonirl has put his finger on who the UCL captain looks like. "Is it just me or does Karran on UCL's University Challenge look like Zaphod Beeblebrox?" That's it! Give him an extra arm, and an extra head, and the likeness would be uncanny.
Extra arms and heads notwithstanding, UCL prove they know very little about formal dances, and a lot about international oil companies. Students these days, eh. Someone knows how to annoy MangoUvet: "I hate when the phone goes during University Challenge." The second visual round is on a painting of a Biblical scene, no-one knows it, and UCL leads York by 155-60.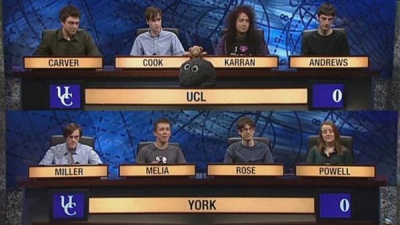 UCL: Hywel Carver, Patrick Cook, Jamie Karran, Tom Andrews.
York: Rob Miller, Greg Melia, Andrew Rose, Heather Powell.
More paintings of the Magi in the visual bonuses. We're checking our calendar, and it's remaining stuck on September. A bit early to be asking questions about Christmas, we think; the leaves are still on the trees. MattGray91 reports "Got the first question right, started so well. Has gone down hill from there." There's two correct answers in about three minutes, and that feels like game over from York; the game has died with less than a whimper.
With four games to go, the repechage board stands at:
200 Homerton Cambridge
180 Worcester Oxford
165 St Andrews
125 Edinburgh
Suddenly, Thumper turns on his afterburners, speeding up his reading tremendously. UCL, they're having none of this hurry-up business, preferring to think as long as they reasonably can before giving the wrong answer. At the gong, UCL wins, 185-105. Clearly, top drawer on show 10 suits them. UCL were right on 28/52, York on 15/42, and Random Punter o'the Week is ChrisJFreer: "Yes!! Just got 3 questions right in a row on University Challenge!! I'm officially a genius"
Next match: King's Cambridge v The Queen's Oxford
Heat 4: Joggers v Technologists
Microblogger AndrewJ_Hill wrote, "I maintain that University Challenge is only a mental warm up to Only Connect" So, if we're all warmed up, let's go with the mental Olympics, and specifically the dope testing element. This week's triples are the Joggers, including former The Krypton Factor semi-finalist Ronald Stewart; and the Technologists, including a player of Ultimate Frisbee. There should probably be some ®s and ™s in there, but we can't be bothered to work out where.
Round one begins with some picture clues, some serious paintings. Do they all have "night" in the title? Good night! Two points for the Technologists, there. The Joggers get that all of the titles in their set refer to one person, or in this case one surname: Park. One point, better than a punch in the teeth.
The Technologists have the Wick o'Twisted Flax o'Doom, and begin with JLS. We have a suspicion they don't actually know who the Jls are, but they do know about Sleipnir and a snooker table. Eight legs, two points. White gloves is the superb link for the Joggers, and there are people on the Tokyo subway whose job is to shove people into carriages, just as there are people in the studio getting two points.
Audio for the Technologists, including such classics as "Hissing Sid" and a punk cover of "Happy talk". No, not all songs about happy things. It's a Captain question, with the likes of Beefheart and And Tennile. Bonus for the Joggers, who are very quick to move on to the second clue in every set. Do they have translations of the Bible? They do, but go for "Latin translations of religious texts", which it ain't. What's the score? 4-4.
Round two has arrived, starting with Perth. Scotland? No, Australia, as Darwin's the next clue, but what's the sequence? Test match locations? Victoria has no idea: it's actually Australian state and territorial capitals heading from the westernmost, so Melbourne was the answer. The Joggers are send round the bend in their picture spin quiz, which isn't about bends at all, but poker hands, heading towards Bob's Full House.
From Manchester City to Mexico and Cote d'Ivôire. Oh! We're talking Sven Sven Sven Goran Erikkson, so the answer isn't Ireland or Italy but Leicester City. It's no wonder he's such a hit with the girls. We have a mathematics question for Ronald the maths tutor: quartic is only going one way, through cubic and quadratic and linear to FIVE POINTS!!!!!!!
Ahem. The next question's a P, Bob: Product and Price and Place is (apparently) finished by Promotion, because this is something called the Marketing Mix. No, us neither. Dad's Army for the Joggers, starting with Private Pike and working up to Captain Mainwaring. That's worth three points, and the Joggers have stormed into the lead, 12-6.
Joggers have the first of the walls, and begin with duos in pop music: Roxette can only really be in that sort of group. They look at fractions of a US dollar, but prefer to get neigbourhoods in that country. And then things quieten down, while they wrestle with things like Wishbone. It takes almost two minutes for them to get out two guesses, both of them wrong. The one with Wishbone is formations in American football, and there are some types of whistle. Five points!
Bring on the technologists! What could rubber duck indicate? Or is there going to be a group of pilgrimage sites? There is, eventually. There are a set of circuit ___ words, they come out quickly. Lourdes is still in play, isn't that one of Madonna's children? Indeed it is, and the last set (including Rubber duck) are terms in CB radio. Stop pretending you don't know who Madonna is, it would cost you three points. Victoria spends approximately one forever teasing out the surnames of these children, it's almost as if she had a few minutes to fill. Ten points!
That's closed things up, the Joggers' lead is reduced to 17-16. Literary forms and genres give us a caption of Victoria Coren and "RTC", and the Technologists have that 2-1. Things discovered by Nobel Prize winners heads to the Technologists by 4-(-1), and it's 3-0 to them on alcoholic drinks. They run away with it in the musician biopics round, 3-1, and though the Joggers get a Girl Guide badge, they've lost it in the final round. The Technologists win, 27-19.
Next match: Fantasy Footballers v Antiquarians
This Week And Next
Next week, we'll be asking which one is which: Ant or Dec?
First, the ratings in week to 28 August, where The X Factor remains number one, 10.65m tuned in hoping for entertainment. 5.3m came from Family Fortunes. Third on the list is The Great British Bake Off, 3.55m saw Tuesday's episode. The final of Show Me the Funny (2.5m) was eclipsed by a repeat of Dickinson's Real Deal (2.55m), and both lost to Celebrity Big Brother (3.05m saw Sally Bercow's exit). The Bachelor is pulling 1.4m viewers, on a par with Deal or No Deal and 8 Out of 10 Cats.
Celeb BB's Bit on the Side peaked with 900,000 viewers on Thursday; Wednesday's edition drew 315,000 to 5*, a very good figure at any time, never mind 11pm. It's on a par with Dragons' Den on BBC-HD and HIGNFY on Dave. Top of the digital pops remains Xtra Factor, with 1.27m viewers; the narrative repeat had 690,000, Come Dine With Me 665,000, and Only Connect 625,000. ITV2's stunting with a week of Celebrity Juice returned 595,000 viewers on Tuesday. CBBC had its best audience for Hole in the Wall (355,000 on Saturday morning), and Challenge its best for In It to Win It (220,000 on Tuesday).
With Red or Black turning up double-zero, ITV tries again with feelgood show Holding Out for a Hero (7pm Sun) and wintry survival challenge 71 Degrees North (9pm Tue). Masterchef fans are being spoiled right now, with the UK Celebrity edition is on BBC1 (2.15 weekdays; highlights at 8.30 Friday and Saturday teatime). That adds to two different series of the Australian programme on Really and Watch, and the Irish version on RTE2.
To have Weaver's Week emailed to you on publication day, receive our exclusive TV roundup of the game shows in the week ahead, and chat to other ukgameshows.com readers, sign up to our Yahoo! Group.