Weaver's Week 2014-02-23
Last Week | Weaver's Week Index | Next Week
It's all about the spoons.

Red Arrow and CPL Productions for Channel 4, from 7 January
One spoon.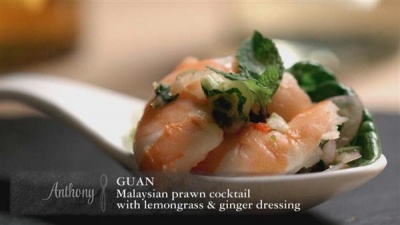 One little spoon.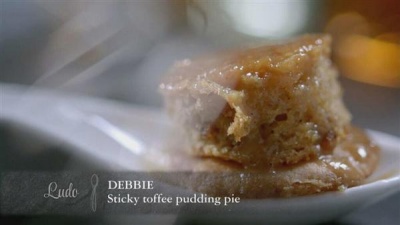 A taste of a dish. A tempting morsel. A summary of the entire creative process in the space of a thumbtip.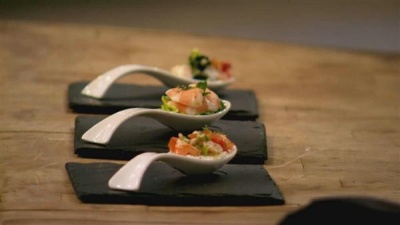 The Taste has a very simple core idea: everything in a microcosm. Contestants here need serve up only enough food to fill a spoon. Not judged on the whole cake, just the sliver that fits onto one of these large china beauties.
Presentation is important, but the main point is to deliver a memorable taste. Something that makes the eater think, yes, I'll have some more of that!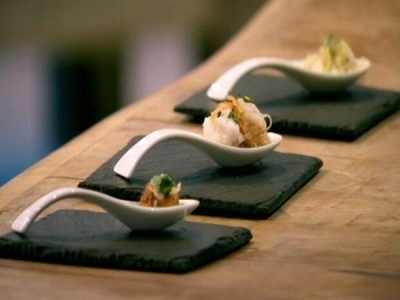 The Taste has a very artful presentation, with long languid shots of spoons and food in extreme close-up. It's a bit French like that.
And then, somewhere around week four, the magic wore off, the direction sped up, and we were back to a standard talent show eliminating one person every week. So we can stop writing in whispers and get on with the usual description. Judges for the show are Nigella Lawson (posh), Ludovic "Ludo" Lefebvre (French), and Anthony Bourdain (annoying). The sound is enhanced by an off-screen narrator, and the composed soundtrack is one of the best we'll hear all year.
The opening round had pace, it had zip, it went places. Twenty-five cooks – some amateur, some professional – came in, each would spend an hour making their signature dish, and then serve up a morsel on the iconic spoons. Each judge would eat a spoonful of this food, and would make a decision on whether to invite that cook onto their team – the judges had just four places each. After they'd made their decisions, the judges had a conversation with the cook, discussed the work they'd sampled, and revealed whether they wished to make an offer.
Basically, it's the Incrrrrredible Spinning Chairs round from BBC The Voice of Holland, but done with spoons and food rather than voices and furniture. Unlike the BBC show, this auditions phase was completed in one week, rather than being dragged out for most of the winter.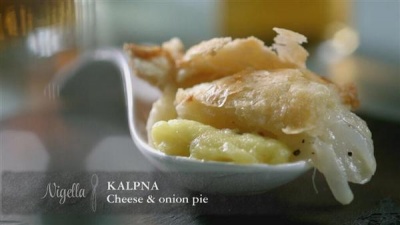 After this, the weekly programmes fell into a routine. There would be a guest cook, they'd set a challenge relating to their speciality or whatever theme was going to happen this week. Each team member would make their dish, and the celebrity captain (Nigella, Anthony, Ludo) picked one dish to spoon up and present to the guest. The guest tasted and critiqued the three spoons, named a favourite, and whoever cooked that spoon was safe from elimination.
The producers allow us to believe that the challenge is sprung on the players. We'll put it no more strongly than that, because a moment's thought will tell that they must have been tipped off so as to have the right ingredients. Probably put in a bit of practice, too. All of this is absolutely fine, the chefs are entitled to rehearse, though (unlike Britain's Best Bakery) it's not discussed on air.
And then there's the elimination challenge, set by the judges, who leave the cooking area as soon as the clock starts. They know what dishes they'll be served, Nigella pronounces some food and we effortlessly move over to see it being made. We might hear a piece-to-camera from the cook – some recorded at the time, others before or afterwards and edited in.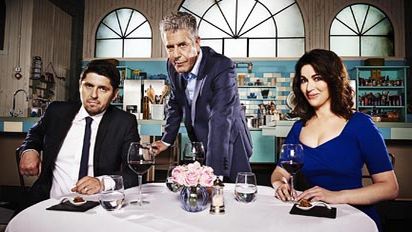 The judges know what they're eating, but they don't know who is serving them. As they critique the spoons, we viewers have the dramatic irony of knowing the chef they're criticising. Ludo might go softer on the boiled haddock, because it's one of his own cooks. But any suggestion that this contest is judged entirely blind ends at the start of part four, when cloches are removed, the bottom three dishes named, and chefs own up to the implicit question, "Who cooked this tripe?" A discussion follows, and someone leaves. And do it all over again next week.
Here, we find the show falls down. The conceit of the show is that everything is done anonymously: the judges picked their sides, chose immunity, picked their bottom three and their top one based on nothing more than taste. And for the elimination, this is thrown completely out of the window. It's done on personality, on information found out by talking to the competitor, on how well that player has done before (when someone is in the bottom three for the first time, they're probably safe).
The judges are clearly trying to do what they can to encourage quality cookery, to develop the best chef. They're not playing for a personal win, they're playing for gastronomy to be the winner. These three aren't much offended by sending one of their own home; they are offended by someone buying in sponge fingers rather than making their own. Too often, The Taste becomes a cookery masterclass that happens to lose a student each week.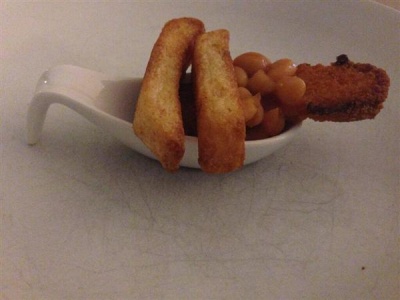 Reviewing this programme on The Fifty 50 Show a few weeks back, Lewis noted a gentle bias towards home cooking, towards the amateur rather than the professional. Was The Taste going to be another part of the homecraft revolution? With the passage of time, we think not. Amateur cooks are still there, but they're not defined as amateur. The line hasn't so much been smudged as completely erased.
We liked the first couple of episodes a lot. Then it turned out that the producers had thrown all their good ideas into those opening weeks, and there wasn't much going on afterwards. Some of the cooks seemed interchangeable, very few of them had a personality, and most of those who did were out early. Viewers seem to have agreed, initial ratings of 1.8m fell by over a third in the second week, and overnight figures indicated just 750,000 last Tuesday.
Certainly The Taste isn't a popular hit, its gimmick very quickly finished, and we don't see any compelling reason for it to return once the run completes on 11 March.
Group Phase 2, Match E: Manchester v Cardiff
From phase 3 to phase 2. Genius. Manchester's last engagement here was a defeat to Trinity Cambridge, Cardiff suffered a loss to SOAS. Winners here progress to phase 4, losers cross the canal to Media City UK, from where they can catch a look at the Blue Peter garden. And a cold. And a tram to Manchester Piccadilly, or wherever's best to go home.
In a wonderful piece of question synergy, an early starter asking after the year 1926 is followed by some bonuses on the year 1599. This question falls to Manchester, as does just about every question in the opening "exchanges". How can it it be an exchange when one side is not playing? Cardiff do join us, they're just waiting for a bunch of questions on Flags of African Nations, None Of Which are the Central African Republic. That's the first visual round, Manchester's lead stands at 70-25.
Manchester may be the only people who don't watch the professional cycling tours, as they're unaware of the Lantern Rouge. It's something held up by Laboule so that contestants can see without losing their night vision. At least, that's the reason he told us. Cardiff are given a set of bonuses on classifications of galaxies; they try to nominate one of their number, but he's having absolutely none of it. Singers performing in French is the subject of the audio round, avec la belle Lennox et Carla Bruni. "Quite a good album," opines our host. Careful, mate, Danny Baker will be wanting a job swap next. Manchester's ahead by 105-40.
Manchester are surprised that there's a bishopric in Bishop Auckland. We were also surprised to find that that bloke off of The Crystal Maze was high-up in the church. Manchester seems to have given permission for Jo Day to make speculative buzzes: so far, it hasn't worked as he's incurred three missignals to one right answer. But the rest of the team is able to pick up, and after the second visual round they lead by 140-80.
The lead extended to 80 points with the answer "Solon", and it's been good to know Cardiff; a couple of dropped starters means Cardiff now require snookers. The question setters seem to believe that "cone" rhymes with "scone", and this is going to keep the Radio Times letters page in business for the next zillion years. Back at the game, Manchester have confirmed their win, 195-105. Ten starters for Jonathan Collings, the man on the right, but Manchester are held to 18/36 bonuses.
To qualify for the next phase, Manchester must play and beat the losers from phase 3 match H, between Somerville Oxford and Southampton. We expect that will be next week's match.
This Week and Next
Two weeks ago, we noted how KYTV's shows tended to be derivative. The company has been in court this week, defending claims that their 2010 show Must Be the Music had been pilfered from ideas submitted by freelance developers. Brian Wade and Geraldine Perry claim that a combination of original songs, a panel of singer-songwriters, and making the performances eligible to chart had been worked out over eight months, but then abandoned by KYTV. Six months later, the show took to the air, now made by Lizzy Yellowhammer's company. A spokes-statement from KYTV said, "We are defending our position." The case continues.
Bad news for local television in Birmingham, as City TV has postponed its launch from March to September. Its London equivalent, London Live, is still set to launch from Marcopolo House at the end of next month.
The final Mastermind heat of the series went out opposite a rugby match.
Terence Saunders (Novels of Wilkie Collins) took questions about a prolific writer of history stories – the round splutters a bit and reaches 8 (1). The contender is somewhat behind the curve, unlikely to win, but he does give it a very strong go, and anyone who remembers The Bash Street Kids has a well-spent youth. 23 (4).
Peter Gaskell (The Grateful Dead) began by noting his subject took their name from two words found together in a dictionary. A better name than our band, the Tripe Trip. No tripe in this round, a couple of errors and a score of 12 (1). A few early passes in his second round, then a logical-but-wrong answer, and then it's back into a pass spiral. This is a shame, it's clear he knows his onions, but can't quite get them out. 19 (9).
James Maple (English Civil Wars 1642-51) had an absolutely classic Mastermind subject, and (for all we know) a classic set of questions. With subjects not returning for about five years, we can't recall the ones from last time this subject came up. He also scores 12 (1). This contender also begins right-right-pass, but he is able to continue to offer answers to questions he knows, and passes decisively when he doesn't. The score keeps ticking up, closing on 23 (6).
Lindsay Ashford (History of Bedlam) took questions about the Bethlehem Hospital for the insane in London. The contender visibly grew in confidence as the round progressed. As well she might: it's A Perfect Round 14 (0). Ten to win, nine might allow something unusual to happen. Again, the round starts right-right-pass; this time, the contender answers some questions, but there's a phase when not many are correct. Things improve towards the end, and the final score is 24 (5).
One of the rarities was a tie-break, between contenders equal on points and passes. Another was a contender going from fourth to first, and Terence Saunders so nearly achieved that. But the last answer clinched the game for Lindsay Ashford, she becomes the thirtieth and final person through to the second phase. We'll be keeping half an eye off Mastermind next week as well, and again because Welsh culture is getting in the way. More on that in a moment.
BARB ratings for the week to 9 February are in.
The Voice (9.4m) continues to beat everything except Call the Midwife (10.25m).
It's an awfully long way to Who Dares Wins (5.45m), Dancing on Ice (5.15m), and Family Fortunes (4.15m).
The last competitive Millionaire had 2.95m viewers, level with other ITV successes University Challenge and The Chase.
The Jump finished with 1.9m. Coach Trip returned to prop up Channel 4 daytimes, 1.55m for the week's top episode.
Come Dine with Me appears in the top ten on More4 (410,000), 4seven (115,000), More4+1 (60,000), and The Community Channel (8000). It's not in the top ten on Channel 4.
It's Song Contest week across the British Isles, with Can i Gymru (S4C, 7.45 Friday) leading neatly into The Late Late Show Eurosong special (RTE1, 9.35 Friday). Before that, Steve Jones (2) lets down BBC3's Hair (9pm Tuesday), a new civilian series of The Cube (ITV, 8.20pm Saturday), and bring earplugs for the first battle round on BBC The Voice of Holland of UK (BBC1, 7pm Saturday). Remember CJ de Mooi from the Eggheads? He's back in Revenge of the Egghead (BBC2, 6pm weekdays).
To have Weaver's Week emailed to you on publication day, receive our exclusive TV roundup of the game shows in the week ahead, and chat to other ukgameshows.com readers, sign up to our Yahoo! Group.