Weaver's Week 2014-04-13
Last Week | Weaver's Week Index | Next Week
Whatever happened to Open?

The 2014 Final: Trinity Cambridge v Somerville Oxford
And so it's come to this. A zillion teams, what feels like a lifetime of matches, and 2939 questions (though the producers claim precisely 100 more). Two sides have got here without defeat, and they meet in the grand final.
Somerville get the first starter, and bonuses on quick ways to riches. Trinity spring back with a starter of their own, but score just one on questions about the Danube; the next starter also falls to Cambridge. This isn't what we expected: Trinity have been brilliant on the bonuses, Somerville a bit better on the starters. But then Trinity do well on the discoveries of Dr. Bunsen (the chemist, not the Muppet) and identify works of Jane Austen seen on stamps. They have a 60-25 lead.
Doggerel about the Ten Commandments lets Somerville back into the game, and they clean up on mangoes. "A Zola dictionary" is the pointless subject of Trinity's next set of bonuses, earned by answering "Exeter". The question wasn't about the biggest losers in University Challenge history, blown out of the water by the 2009 champions from Corpus Christi Oxford. This year's Oxford finalists win the buzzer race for a physics starter, but get it wrong. Trinity swoop in and mop up on paintings of lovers.
"No, no, no, no, get them yourself." Not the answer to the questions posed in "Blowin' in the wind", but those of "Jerusalem". That costs Oxford a missignal, but Cambridge incur one on the next starter, and Somerville do good work on arithmetic involving the planets: "the sum of the moonless planets" is 3. Going into the audio round, the favourites are a length ahead, and they stretch out the lead in a round on favourites of the Desert Island Discs listeners; 105-60 once they've finished.
Somerville begin their comeback with a starter and some questions on philosophy, which leads us to think that Armand Jammot preferred the philosophy of Descartes over Ryle because he believed in a separation of mind and body. Trinity catches another missignal, confusing "precocious" and "precocial", but picks up the next starter and scores on cross-gender nouns in the French language – "le tour" and "la tour" are very different.
But the Oxford side are still nipping at the heels, and scoring well on events of the late 4th century. Nipping at the heels, but never taking the lead: Trinity come back with a starter and a set on tea. The second visual round is on a scientist, no-one recognises Tesla, and Trinity's lead is 145-110.
A good run here will win the game for someone. Trinity get the bonuses, which turn out to be pictures of scientists who live on as SI units, but Somerville know the definition of "truth" when they hear it. They don't answer much on orbital mechanics, but do know The Master when faced with a starter. Again, the bonuses go unanswered, and Trinity dart in with a good buzz on languages. Somerville look convinced that their starter of "rose" is correct; it's "iris", that's picked up by Trinity, and with the bonuses on Little Billy Shakespeare, it's feeling like Trinity have this.
The victory is just about confirmed with a good buzz from Trinity, and absolutely confirmed with success on palaeontology. The Cambridge side pulls away in the last minutes, making the margin of victory – 240 to 135 – far greater than it actually was. Until the last five minutes, either side could win. The trophy is presented by Jeanette Winterson.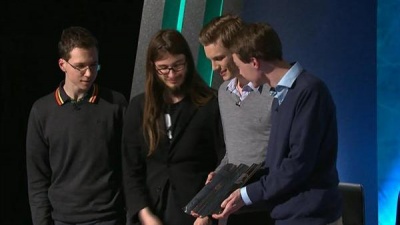 The champions hold their trophy. Well done to Matthew Ridley, Phil Drnovsek Zorko, Richard Freeland, and captain Ralph Morley.
More University Challenge next week.
Let's Get Ready!
News reached us from the MIP Festival of Television Formats this week. We hear that the BBC has changed the name of its forthcoming gymnastics show, because "Let's Get Ready to Tumble" is a bit too close to an old PJ and Duncan AKA single. It set us wondering what other programmes might need a quick trip to Titles-R-Us.
Let's Get Ready to Bumble – Smoke guns at the ready, we're raiding the hive for Britain's best honey. Billie Piper presents this landmark series for ITVBe.
Let's Get Ready to Fumble – A tour documentary with the England men's cricket team. Will they ever be able to hold a catch? Find out exclusively on KYTV Sports, the home of winners.
Let's Get Ready to Mumble – Swansea's local television station covers a race along a preserved railway line, finishing at the top of a solar-powered lighthouse.
Let's Get Ready to Jumble – Teams of two are given a ten pound note, and asked to find something nice in a village hall sale. It's the latest daytime winner from Channel 4.
Let's Get Ready to Crumble – The nation's favourite Mary Berry teaches us all how to make the perfect biscuity topping for a rhubarb-and-currant base. BBC2, you spoil us.
Let's Get Ready to Stumble – Action and adventure on ITV2, as a group of friends find themselves running through a wood, pursued by brain-dead zombies (or was it the cast of The Only Way is Thurrock Unitary Authority?) Will they get out alive, because one false step could see them spray-tanned?
Let's Get Ready to Grumble – A tour documentary with fans of the England men's cricket team. Will they ever see a victory? Or even a wicket? A Sports-Ology presentation.
Let's Get Ready to Numbskull – From the CBBC channel, a part-animated adaption of the classic Beezer and Beano comic strip.
Let's Get Ready to Crumple – After baking, sewing, and gardening, the latest home skill to be tested is ironing.
Let's Get Ready to Rumple-Pumple – A late night Channel 5 programme, at which point we'll turn off.
Second round, match 5
Ah, that's more like it. Five in a line, let's start the questioning.
Clive Dunning (Life and Music of John Lennon) makes a solid round on the Beatle, though errs on the title of his subject's token Christmas song. 8 (0).
Lindsay Ashford (Burke and Hare) has a set on the infamous bodysnatchers. The round starts strongly, but the final moments incur a few passes, and those could be costly. 9 (3).
Andrew Warmington (Life and Reign of Charles II) had a calm and confident round, albeit with an error and some discussion by the host. 8 (0).
Jon Jacob (Peloponnesian War) answered swiftly, just as he did in the heat. Even when he passes, he moves swiftly, but 6 (3) doesn't feel like a winning score.
Steven Broomfield (Novels of Patrick Hamilton) looked entirely at home while answering on the early 20th century writer. 8 (0).
In the second run, Jon Jacob reprises the general knowledge that steered him to victory on 13 September when he took Arthur Sullivan. And then he fell apart a bit, closing on 15 (8). Clive Dunning moved to Lennon from Blackadder on 13 December, and again he knocks the round into the corridor of uncertainty, finishing on 20 (0). How strange that both heat winners from Friday the 13th are back here.
Andrew Warmington qualified on 11 October, when he answered on the French Revolution. As with Mr. Jacob, the round starts strongly, but loses pace in the middle, and finishes on 17 (1).
Our runner-up of the week is Steven Broomfield, he was on 4 October with the Battle of Balaklava. Are we to believe that the Argos Catalogue is a retelling of the Trojan Wars? If so, it was the toys that did it. A slow start to his round ensures there's little chance of a win. To quote the host, he "nearly made it, but not quite", finishing on 18 (0).
Lindsay Ashford won the last heat on 21 February, when she took Bedlam hospital. Confusing "Pemberley" with "Pemberton" sums up her round: lots of good guesses, many of them slightly wrong. 13 (5) is the final score.
So Clive Dunning will take his place in the grand final, two weeks hence. Why 25 April? It's another Friday when there's no rugby scheduled.
This Week and Next

The BAFTA Television awards are looming, nominations were announced this week. Game shows up for the prizes:
Court news, and Deanna Uppal has had her libel action against Conor McIntyre struck out. While Conor's rant in the 2012 Big Brother series could and did cause offence, the judge ruled that it was "vile abuse" and not capable of defaming Ms Uppal. She's entered a further claim against Endemol and Channel 5 for breach of contract and breach of duty of care, and that claim has yet to be heard.
Remember BBC The Voice of Holland of UK? You know, the one with the amazing spinning chairs? Apparently, there was some sort of singing after that, and someone was declared the winner, but we have absolutely no idea who that was. Anyway! One of the passengers on the chairs has decided that she's had enough with this spinning around lark. Kylie Minogue has left the programme in order to start a singing career of her own. Hope that goes well for her.
Hello to Kim Shillinglaw, the new controller for BBC4 (and its provisional wing, BBC2). Ms Shillinglaw has been the head of science and natural history at the BBC, and her existing hits include Stargazing At Brian Cox. (That is what happens, right?)
BARB ratings in the week to 30 March.
Still nothing between The Eastenders and Coronation Street on 8.1m. BBC The Voice of UK is the top game show, with 6.65m viewers.
Saturday Night Takeaway (5.8m) beat Masterchef (5.35m) for second place.
Good return for Big Star's Little Star, 3.85m put it ahead of The Cube, Sewing Bee, Catchphrase, and University Challenge – all these had 3m viewers.
Has the Celebrity Juice bubble burst? Just 1.18m for this week's show, that's a million down on recent years, and behind 8 Out of 10 Cats (1.3m).
How popular is the 3-2-1 revival on the Challenge channel? Only 28,000 viewers on Challenge+1, but we think it's a more entertaining show than The Voice.
Only Connect (BBC4, 8.30 Monday) is back, as is Young Musician of the Year (BBC4, 7.30 Friday). After cooking and sewing, it's gardening in The Big Allotment Challenge (BBC2, 8pm Tuesday). No football to delay Britain's Got Talent and Amazing Greys on ITV next Saturday, and television medics on Pointless Celebrities at 7pm. That University Challenge special? A repeat of The Story So Far at 8pm, then a challenge match between the only institutions to win three series: four players from successful Magdalen Oxford sides take on four players from successful Manchester sides.
Photo credits: Granada, BBC Salford.
To have Weaver's Week emailed to you on publication day, receive our exclusive TV roundup of the game shows in the week ahead, and chat to other ukgameshows.com readers, sign up to our Yahoo! Group.