Weaver's Week 2016-07-03
Last week | Weaver's Week Index | Next week
This hasn't been a good week, we've been mourning the loss of shared humanity, and the triumph of bigots and petty Englanders. The silver lining? Coming soon, a piece with the working title, "What if Angus Deayton hadn't shared a coke with a woman who wasn't his wife?"
For now, something to the point.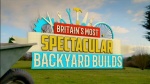 RDF for BBC2, 21 June
"Inventors are building the unimaginable. They're creating the magical, the wonderful, and the quite ingenious." During this one-hour pilot, we'll meet three Branestawms, each turning the ordinary and quotidian into something quite remarkable.
The rules are very simple. Ten weeks, £2500, build it in your own backyard (or shed, or kitchen, or junkroom-slash-workshop). The producers will give advice to make sure it's safe and won't collapse onto anyone's head. And you've a special difficulty: the host is Sara Cox.
Nick and Carolyn have a target audience: their grand-daughter India. She's drawn a sweet-making machine that's also a merry-go-round. Wheels from a mobility scooter turn into the revolving base, and they can power it by horses perched on bicycle wheels.
More on that story later. Because, yes, this is one of those programmes. They're going to cut from here to there to the other place, and then come back here a few weeks later.
We meet Pete and Merv as the artists, the sort who have a kinetic sculpture outside their workshop. Their project is inspired by their wives, who like nothing more than a cooked breakfast. A contraption to cook eggs, make toast, and deliver a nice hot cup of tea.
Even on the first run-through, we hear that there will be "a mechanised wafting arm". This is what we need, folks! There is a global shortage of mechanised wafting arms!
Stewart is a science-fiction fan. He's going to build his own robot. Moving arms with a colossal metal claw, and a barrage of foam darts. He'll sit inside it, and just move a few fingers to control the behemoth.
We don't meet Stewart until the third week, and he's already behind schedule. All he's got is a set of articulated shoulders. "My plans are...loose at best. At worst, non-existent." Welcome to our world, sir.
At this point, we're introduced to the man who turned a shopping trolley into a jet-propelled rocket. That'll teach those automated checkouts, "unexpected item in bagging — ow, oh, my diodes!"
Back with Merv and Pete, and all the careful work with microprocessors to control thirteen moving sections. It's not just about boiling the water for the tea, it's getting the water at the right temperature and keeping it there for the egg, and can that same heat source power the toast?
Steel bars provide the key to Stewart's robot, inch-thick girders are the framework of choice. And the horses for the carousel are going to be saddles for the pedals.
Another ad break? Not on the Beeb, we'll meet the man who built a trebuchet. Lob things as far as possible for the minimum of effort. "I wanted it to be the only music festival that's got a working medieval siege machine." What, so that we can hurl cauldrons of cold cod liver oil at rubbish acts without getting deafened by the sound system? Like the idea!
Carolyn and Nick's carousel is at the sweet dispensary, working out the cogs and gears needed to dispense the sweets at the right rate. Never too quickly, never too slowly, just the right sort of pace. Too fast and sweets will fly everywhere, a gobstopper in the drivecrank would gum up the works. Too slow and sweets will just collect in a candy puddle.
Merv and Pete's breakfast machine is all coded up, and the mechanicals need a bit of tinkering. And they've got to be sure that the egg is at just the right consistency: not too hard, but properly cooked. And everything has to be in the right place. Including the electrical plug, in the electrical socket.
Ad break time! Meet the man who has built a giant contraption. It weighs eight tonnes, and it's 35 feet high. That's five-and-a-half Richard Osmans tall. Its job? To be a pointless sidekick, and the biggest thing on BBC1.
The giant contraption? Oh, that winds some gears and moves some pulleys and flicks levers, pulls on that, yanks this thing, brings a hammer round, which drops onto a plate, fires into a bit, and gets crushed. Yes, this 35 foot colossus has one job: crack a nut.
Once more around the builds. Stewart tried to use old air bags to pressurise his joints, but the RDF Safety Officer took one look and said "No". Old air bags are made from rubber, rubber perishes, and if one were to explode at the wrong moment, there would be a nasty explosion. We don't want to go around killing people on national television.
A final commercial break? The man who built a plane in his back yard. As one does.
"Ten weeks are up, the time for tinkering is over. They can do no more." Poetry in that line, isn't there.
And so to the testing of the inventions. We begin with breakfast. An automatic tea-maker with the all-important jiggle function. A paper ready to be fired onto the table. A toast-maker and the egg, fresh from a battery.
But does it work? The newspaper is fired out with force and velocity. The toast is cooked on both sides, thanks to the mechanised wafting arm. The tea is made, and it really does jiggle the teabag in the cup. But – gah! – not quite hot enough. Then the egg goes in, the toast pops out. And the egg comes out and makes its way slowly, steadily, into the eggcup target.
The second run, not quite so good, as the machine decides that "coffee" is made with coffee granules and a tea bag. But with a wait of just 15 minutes to serve the second person, and a button to pull the tablecloth from under you, the machine is now gainfuly employed by British Rail.
Thence to Stewart's robot. It fires darts! It's got a claw arm! It swivels through 100 degrees! It's got scarey eyes! There's a paper towel dispenser in its head, tractor headlights for eyes, and it can pick up an egg without breaking it. We can't do justice to this contraption in words, it's a sight to behold.
And the carousel. Fifty square metres of plywood, painted horses, and a sweet dispenser in the middle. Young India sits on the saddle, turns the pedals. Cogs spin, jaws open, and sweets fall onto the floor. Yes, they go everywhere, but not so far as to be messy, and it's a steady drizzle of jellybean, not one great gelatenous mess.
Sara Cox and co-host Piers Taylor decide on a winner. They didn't have to, this show would have been fine without a prize. The carousel won, of course.
Only in the closing credits do we see where this programme's come from. Consultant engineers: Alistair Grieg, Hadrian Spooner, Alex Williams. Weren't some of these people on Scrapheap Challenge in the day?
Indeed, that's what we have. Backyard Builds is pretty much the gentle revival of Scrapheap Challenge that fans have wanted for many years. Three teams rather than two, and the challenges arise spontaneously.
We've a famous and enthusiastic presenter (Sara Cox, the new Robert Llewellyn), able to ask difficult questions and pretend to be innocent. And we've a resident boffin (Piers Taylor, the new Cathy Rogers) who knows what he's talking about. And the whole show has a feelgood factor, people doing silly things to test their ingenuity for no reward other than a golden hammer.
Backyard Builds was a pilot episode. We might appreciate a full series.
This Week and Next
Back in April, Radio 4 had a programme swap. Don't Make Me Laugh suddenly shifted from a peak slot (6.30 on Thursdays) to a graveyard slot (11pm on Mondays). The cause? Jokes about the sex life of a 90-year-old. And the fact that editors and producers hadn't gone through the BBC's usual rigorous checks, they'd only checked against a "rough cut" of the programme. And the fact that So Radio, owned by ITV, failed to tell BBC commissioners that the show included reference to a public figure (Mrs. Elizabeth Windsor, a queen from London).
The BBC governors passed judgement this week, and apologised to everyone. That's except for republicans, whose views are ignored yet again.
BARB ratings in the week to 19 June.
Euro '96 Roy Hodgson's Team versus Chris Coleman's Team was the most-seen show of the week, seen by 7.7m viewers in mid-afternoon. Expect a series.
Top game show was The Great British Sewing Bee, 3.35m on BBC2. It beat Top Gear, which consolidated to a mere 3.2m.
ITV's top game was Catchphrase on Saturday evening, Stephen Mulhern entertained 2.6m. The Chase had 2.55m.
Antiques Road Trip scored 1.75m on BBC2, and Big Brother 1.55m on Channel 5. We don't have figures for ITV2, so can't report on Love Island.
Top new channel show we know about is vintage HIGNFY on UKTV Dave, 320,000 mildly amused by Janet Street-Porter laying into Sepp Blatter.
Football and tennis this week, so little new game show brilliance. The best of Dragons' Den (BBC2, Sun), BBC New Comedy Award (Radio 4 Extra, Fri), and last year's Fort Boyard (TV5, Sat); the new series began on F2 last night, if you're clever... We've the final of The Great British Sewing Bee (BBC2, Mon)
Photo credits: RDF.
To have Weaver's Week emailed to you on publication day, receive our exclusive TV roundup of the game shows in the week ahead, and chat to other ukgameshows.com readers, sign up to our Yahoo! Group.