Weaver's Week 2016-10-09
Last week | Weaver's Week Index | Next week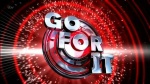 One of television's most talented presenters is back!
Talpa and Potato (both ITV subsidiaries) for ITV, 27 August — 1 October
Cards on the table, we'll get it out there. We think Stephen Mulhern is a gifted presenter, able to turn unpromising material into television gold. For some reason that we don't understand, he's attracted opprobrium from lazy commentators. We'll ignore them, the type of people who wouldn't recognise quality television if they saw it.
Go for It channelled memories of some previous shows. The obvious comparison was You Bet!, an entertainment where celebrities staked their reputations on a member of the public doing something amazing on television. Much of the show was taken up with the setups, the celebrities talking amongst each other. You Bet ran for ten years, and drained the pool of family-friendly stunts.
During this era, Channel 4's late-night show The Word promised instant fame for people who would do gross and demeaning stunts before Terry Christian and Mark Lamarr. No rhyme or reason, just come on the telly, do your trick, have some cash, and bleep off home. The dregs of stuntworld appeared here, used as filler for segments that were getting dull.
More recently, BBC1 ran Epic Win, starring Alexander Armstrong. Here, members of the public came on to do quirky stunts. Blow up hot water bottles to bursting point? Identify lawnmowers from their clippings? Recognise the songs of Take That from one-second snippets? Then Epic Win is for you.
For reasons we didn't understand in 2011 and certainly don't recall now, Epic Win featured a panel of celebrities and the bong game from The People Versus. We also felt it snarked a bit too much at its contestants, laughing at their skills rather than with them.
Go for It has had five years to skim off the good bits of Epic Win, and they've done a good job. Keep the challenges, keep the sense of "what on earth are these people doing"? But lose the superior sneer, and the bong game can sink to the bottom of the ocean faster than a speeding boulder.
The offer on Go for It is simple. Complete a difficult test of your skills in the time allowed, and win &pounds;1000. Fail, and you'll have had a few minutes of fame on network television, and been dismissed to an "ironic" tune. Almost inevitably, the challenger is introduced by a short video package, something they can edit down for time.
Many of the challenges on Go for It looked familiar. Identify vacuum cleaners from their sound. Recognise the songs of Michael Jackson from one-second snippets. Some were large enough to use the studio – ride a unicycle along a row of upturned wine glasses without breaking them.
And some were just spectacular. Open a Champagne bottle and pour out six glasses. Easy, right? Not when your tool is a mechanical digger.
Go for It gave each challenge the time it needed, and not a second more. The digger-and-champagne task made for seven minutes of spellbinding television. Stephen Mulhern added commentary, gently geeing on the contestant, making sure not to help too much and certainly not to hinder.
Alexander Armstrong and his guests on Epic Win turned cheer to sneer more often than we liked. Stephen Mulhern always wants the challenger to succeed, and never snarked at the contestant. His positive ethos lifted the whole show's atmosphere and made it an enjoyable watch.
The editing helped, too. When a challenge needed less time, it got less time. The chap who rode his unicycle along the glasses failed within seconds, and he still has ten minutes of Warholian fame left.
A typical episode would have six challenges. That's a surprise for a four-part show, but makes for better television. Challenges that don't need to fill 10 minutes don't try to fill 10 minutes, they can pair off with another shorter challenge. And two short challenges might help those that need 8 minutes but not 10. Lots of juggling in the edit suite, and it paid off.
There's one other reason why Go for It might be edited in this way. Every Strictly Come Dancing viewer knows that the show runs like clockwork. Video piece, performance, reaction, marks, throw forward. Seven minutes, give or take. Never more quickly, never more slowly.
Go for It must have a different pace, it needs to go fast-fast-slow-slow. Viewers mustn't be able to tell for sure how long each segment will last. Otherwise there would be trouble. Don't like this Go for It challenge? Flick over to Strictly, see two dances, maybe come back to ITV for the next one. Maybe get caught up in the Tess-and-Claudia show and never escape. By varying its pace, Go for It lessens the chance that the viewer can switch and predict when to switch back.
Very indirectly, Go for It owes a small debt to The Generation Game. Bruce and Larry showed that one could demonstrate a difficult skill, and ask novices to have a go. Go for It ramps the difficulty up to eleven, removes the novices, and always remembers that it wants to be entertaining. Light entertainment is difficult to get at the right level – there's a fine line between "too twee" and "too intense". Go for It stays close to that line.
From this sofa, Go for It felt like a pilot series, wanting to do something bigger next time around. It's not a cheap show to make – a heavy digger isn't going to be lying around ITV Towers. But it did feel that they'd spent as little on the challenges as possible. Five puzzle cubes to scramble? That's ten minutes of primetime Saturday entertainment for peanuts. No challenge left the studio, there was nothing filmed on the ITV Pier, nor in a muddy field, still less in exotic Corfu.
And, in spite of being cheap, Go for It has done well. These days, consolidated audiences of just under 3 million is good for ITV primetime. When you consider it's opposite Strictly and Pointless, that's very creditable. They should get more viewers because the challenges are good viral video – long enough to be a visual snack, short enough to be easily digestible.
We know that ITV is making another series, perhaps for the slot before Britain's Got Talent in the spring. Bang on the Money fell flat. We really hope they can afford a few days out on location, filming challenges that can't be done in the ITV Studios studio. That was the one cloud over Go for It, everything was done in the studio. Over a full programme, it gets a little claustrophobic; over a full series, it gets tedious.
Overall, we enjoyed it. Didn't watch every episode, didn't watch all of the episodes we did see, and we saw nothing to stop us watching again.
This Week and Next
Here at Chateau Weaver, we've got our Thanksgiving decorations up. Over at ITV, they're preparing for panto season. 5 Golden Rings is a "visual game show", created by Glen Hugill and John de Mol.
Commissioning news from the BBC. Let's Dance for Comic Relief will return after a short absence, with an expended brief. Let's Sing and Dance for Comic Relief will air in February, we guess after the victorious conclusion to Make It Shine.
The BBC seeks A Song for Europe. Make it good, make it snappy, make it brilliant, send it in by the end of the month. Oh, and don't mention the plebiscite, the only one that Graham Norton wants to mention is the one awarding 12 points.
Comedy on Radio 4 will no longer include Don't Make Me Laugh. The show's presenter, David Baddiel, has snarked that his show hadn't been supported by the BBC Trust. We hear his point, we have a lot of time for his point. But we must also note that the show wasn't that much good anyway, and had perhaps passed its snigger-by date.
But with the Thanksgiving decorations coming down on Tuesday, thoughts turn to Christmas gifts. Some of our family are easy to buy for. Aunt Maude is going to get A Pointless History of the World, so that she can remember halcyon days, like when Central African Republic was a poinless answer. And because it's got a picture of that nice Richard Osman on the cover.
Wry nephew Cedric enjoys being wrong in funny ways, so he'll get the Think Tank quiz book. "Can You Bank on the Think Tank?" asks the subtitle. Only if we're playing a Think Tank / The Weakest Link crossover.
University Challenge featured The Blokes of St Andrews (Matt Eccleston, James Green, Toby Parker, Andrew Vokes) and Worcester Oxford (Sam Barnett, Rosemary Walmsley, Nick Williams, Dennis Wang). The verb count: read 2, study 6. St Andrews won the match, 175-145.
For Only Connect, Maltsters (Dan Jones, Raymond Baggerley, Pete Mitchell) played Policy Wonks (Helen Thomas, Robert Colville, Robert McIlveen). Policy Wonks won the match 23-21.
A low-scoring first round, complete with a little visual joke for the "Where's Wally?" question. Bonuses all around in Sequences, with the Maltsters scoring a very uncertain point on "Carol... Kirkwood?" This column shouted our stock answer, "Tomasz Schafernaker!", for five points. Ten apiece on the walls, and Wonks ran through Missing Vowels by 6-2.
Hive Minds was at the repêchage round, the Cruciverbalists beat the Methodologists by 26-18. Both sides played an interesting second round, spotting and entering one answer, then taking their time to spot the second. Perfectly legal, the screen doesn't freeze until the second letter's tapped.
Methodologists came within a few seconds of perfection in the Superhive; they'd got the right answers, but didn't quite press the right buttons. Or know how to spell Krajicek. (Kraijicek!) Cruciverbalists knew they'd missed perfection, so went for the points – good time management.
Mastermind was won by Tony Richardson. He scored 27 (0 passes) with the specialist subject Don Revie. Rod Allday was perfect on his specialist topic, the painter Laura Knight, but fell short in the general knowledge section to finish on 24. The other contenders were far behind after their specialist rounds – Emma Harris (on Anita Roddick) and Gary Maggs (on the rock band Queen).
BARB ratings in the week to 25 September.
Bake Off records 13.1m viewers. The lowest rating of the series is still 10% more popular than any football match.
Strictly began its performance shows with 10.15m viewers. The X Factor replied with Musical Chairs week, 8.4m bothered.
Other leading lights: Pointless Celebrities had 4.3m, Would I Lie to You 3.7m, Mr and Mrs 2.8m.
University Challenge (2.9m) and Only Connect (2.65m) made it a Quizzy Monday one-two on BBC2. Make Me an Egghead final brought 1.3m viewers, and Debatable averaged 870,000 on its best day.
1.3m for Catsdown on Channel 4 Saturday, 600,000 for Penn and Teller on Channel 5 Sunday.
Leading digital shows: Celebrity Juice on ITV2 (1.36m on Thu), A League of Their Own on The Satellite Channel (835,000, Tue), Go 8 Bit on Dave (645,000, Mon).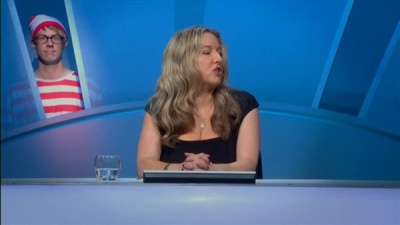 A new series of Landscape Artist of the Year (Artsworld, Tue), and a lot of Henning Wehn throughout the week. With its usual gift for promotion, ITV has put an embargo over its shows for Saturday, so we can't say what new series will replace Go for It. Looking at one of them, we might prefer a chat show hosted by Gordon T Gopher.
Photo credits: Talpa / Potato, 12 Yard / Black Dog, Parasol
To have Weaver's Week emailed to you on publication day, receive our exclusive TV roundup of the game shows in the week ahead, and chat to other ukgameshows.com readers, sign up to our Yahoo! Group.