Weaver's Week 2018-07-08
Last week | Weaver's Week Index | Next week
Well, Mark Pougatch's The World Cup seems to be going rather well. We're digging out the singlet and shorts, and preparing for a sports special next week.
Until then, some thoughts on other, more contemporary, shows.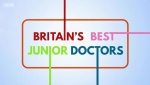 Shiver (an ITV Studios Company) for BBC2, 25-29 June
Seventy years ago this week, the National Health Service was established. Part of the government's attempt to implement the Beveridge Report, the NHS offered free medical care to the entire population, based on the national provision of services to everyone.
Ever since it began, the NHS has been treated as a political football. Starved of funding, inflexible, rationing care by imposing waiting lists, and the demand for health services always outstrips the supply. Because the government runs it, the government is able to meddle in day-to-day operations. Some suggest that the problem is structural, and the NHS needs to split "who pays" from "who provides", as is done elsewhere. Others believe, in spite of the evidence, that the NHS is the best in the world.
Most European countries chose more flexible models, requiring people to pay into social insurance policies, and often ask people who can afford it to pay a proportion of their health costs. The NHS insists that it is "free at the point of delivery". This choice has proven incompatible with its other aims, to "meet the needs of everyone" and to "be based on clinical need". Nor has the NHS delivered medical excellence – the respected Euro Health Consumer Index puts it 15th out of 35 systems for overall consumer quality, and lower for clinical outcomes.
Underperforming, underfunded, and in need of some tough questions. Jo Brand cannot sort out all the medical problems, and she can't pay for the entire creaking system. But Jo can ask some tough questions of junior doctors, in a series made for a BBC season marking the NHS's 70th birthday.
It's a specialist quiz of medical knowledge, and not the sort of show we'd expect to see at 7.30 of a summer evening. Perhaps that's why they put it out at 7.30, when most people will be watching Coronation Enders or East Street. Eight teams of junior doctors have been selected for the show, and the two winners with the highest score come back for the Friday final and a trophy.
There's a lot of chatter at the start, almost four minutes to meet the teams. Wouldn't expect to see an introduction that long these days, but this show does celebrate something 70 years old, in the style of the time.
Eventually, we reach round one, The Waiting Room. A traditional part of the NHS is the queue for medical attention, and the queue starts in the waiting room. We're shown a number of symptoms, and asked a question about it. If you see this sort of nail, what do you expect the problem to be? And there's a quick question of Name That Parasite. Exactly what we want to see at 7.38, when we're trying to eat our tea.
In The Doctor's Surgery, one of the team talks to a patient about their condition, and has a minute to ask questions and establish what's wrong with them. The patient can give descriptive answers, the question "do you have bone pain" can get "a slight ache from time to time". After each question, both here and in the previous round, Dr. Helen Lawal gives further medical facts. She's very much the Lesley-Anne Brewis of this programme, giving reliable truth while Jo Brand larks about.
Round three is Which Ward, four specialisms picked from a table of 21. Hmm. Good planning, that. The producers can write just one question for each specialism, and still have the round be fresh throughout the week. These turn out to be multiple choice questions, one of these statements is true (or false), and the teams try to work out out which. Or there's an order in which to see patients, which and why.
Jo gets excited with round four, because there are some guys in underwear involved. The Operating Theatre asks the teams to mark various organs or surgical incisions on the human body. These markings are made on two models, who are wearing nothing more than some white boxer shorts. Two points for a fully-correct answer, one point for one that's about right. Helen explains herself well, these come across as sensible decisions.
Rapid Response is the inevitable quickfire buzzer round. Does any show of this decade not end with a quickfire buzzer round? No, and it's entirely apposite that a quiz marking 70 years should conclude with the most contemporary idea.
Best Young Doctors was slow, perhaps too slow to be exciting. But there's a house style to BBC2 teatime shows, Eggheads and Curious Creatures, and even House of Games are all more sluggish than this column prefers. Within the parameters, given the brief they'd been set, Best Young Doctors was educational and entertaining, two good Rethian values from 1948.
Any danger of this coming back next year? None whatsoever; this was a one-off series, commissioned for the specific season of programmes. While there's probably room for a specialist medical quiz, there's also room for a specialist young vets quiz, and a specialist young lawyers quiz, and all sorts of professions and trades – anyone for a week of Best Plumber?
There is one production subtlety specific to this show: Best Young Medics was recorded at The Hospital Club.
Channel 4 has concluded a run of five celebrity editions of The Crystal Maze. What have we learned from this series?
The games are better. Last year had a few scintillating games, and a lot that didn't work. This year, we can find two or three winners in every zone. We have no problem with some games that are far too easy (the Paddleboards in Industrial) and others that are far too hard (Vine Hoops in Aztec); that's life.
Some of the games are familiar. The "match shields" game from Mediaeval is rejigged and comes back to Aztec. There's a "blow a crystal round a maze using a hairdryer" game in Industrial, that feels familiar from Fort Boyard. Knock down skulls, that's a familiar idea reinterpreted.
Richard Ayoade hasn't changed his style. The Snowman is still The Snowman, likely to melt at the slightest contact with humans. He will still fall into stock phrases, and ask "rhetorical" questions. Even if sometimes we don't like it, this column appreciates and respects what Richard is doing. It's a choice, and he's got the brass neck to make it stick.
Shooting style looks dated. Back in 1995, it was enough for The Crystal Maze to exist, and have occasional close-ups of the action. These days, we expect a lot more of our television shows. Programmes like The Cube pioneered ultra-high-definition shots, freezing the action, doing funky things with the picture, and treating time as an illusion. Over the years, it's become standard, even children's shows like Raven and Prosiect Z will play with our sense of time. We can understand why The Crystal Maze would not want to fiddle with time, other than to blatantly cut out the boring bits.
The Crystal Maze still uses a lot of overhead shots, and has some bad camera angles. For instance, there's one game where players move a key within a metal grille. It's always shot from behind, from over the player's shoulder, so we never get a clear shot of what they're trying to do. It would be easy to shoot this with a fixed camera from the other side of the grille, so that we could see the path. Perhaps the focus and angles could be set so we see the player's face concentrating. But they don't do that, and it feels like poor television.
For instance, there's another game where you press buttons to make bridges and help the crystal roll down. It's a practice-and-one-shot game, the run with the crystal has to be perfect otherwise it'll drop out of reach. Even without dilating time, they can shoot this so much better. How? Don't show it as an overhead run, put some mini-cameras in the mechanism, so we can see the pathway rise – and things fall. When the crystal drops, show it falling down. Or show the contestant's disappointment, give us some emotional pay-off.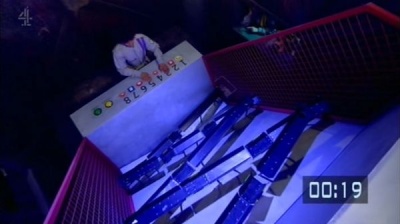 The crystal drops: we can't see the crystal, we can't see Radzi's face. This is just bad shot direction.
Details matter. We've had a few moments that make no sense, and have to be errors in a finished programme. The occasional inserts of filmic-effect video? Don't do it. "Progressive" video is a retrograde idea.
When you announce the game as "two minutes", and start the clock at two minutes, we expect it to count down linearly. We don't expect the clock to jump up to "three minutes minus a few seconds". If you need to re-shoot the entrance, re-shoot the entrance, that's editing.
We viewers will watch The Crystal Maze like hawks. This is a good thing, it shows we're paying attention. The only egregious errors we want to see are from contestants, not from editors and producers.
Celebrity editions still tend not to work. Every celebrity edition of a show creates extra tension: are we rooting for an honest game, or are we rooting for (or against) this particular person? It's easy to root for Radzi Chinyanganya, it's easy to root against Katie Price. Part of the upset could be when our hero takes a fall, or the villain comes through, thus confounding prejudices in a way we don't expect in a light entertainment show. We don't know civilian teams, we don't come in with preconceptions and can judge them entirely on their achievements.
The exception: where the celebrities already know each other, as in this week's Derry Girls edition. We might have enjoyed a Skins crossover ten years ago, or desperate promotion for Hollyoaks in 1996.
We still think The Crystal Maze is good television. We've watched all the episodes, and we've enjoyed something in all of them. We're just irritated that they could be that bit better.
This Week and Next
Tim Vine is back on our telly, on Hat Trick's comedy-quiz series Football Genius. According to the blurb, "two teams of football loving fans compete against each other across a virtual pitch, proving what they do and do not know about the beautiful game in the hope of taking home the trophy!" That's on ITV "later in the summer".
Over on BBC1, the lineup for !mpossible Celebrities has been announced. 18 play the game at a time, so the initial set are...
TV presenters Gregg Wallace, Angela Scanlon, and Rory Reid
Radio host Dotty
Actors Jorgie Porter, Chizzy Akudolu, and Liz Carr
Comedians Russell Kane, Rachel Parris, Imran Yusuf, and Craig Hill
Athletes Iwan Thomas and Tanni Grey-Thompson
Skins extra Ian 'H From Steps' Watkins
TV personalities Debbie McGee, Spencer Matthews, and Vicky Pattison
Vlogger Louise Pentland
Joining in later shows will be Dick and Dom (as a right pair), Rev Kate Bottley, Hannah Spearritt from S Club, Anton Du Beke, and JB Gill from The Jls.
!mpossible civilian episodes return on 16 July at 5.15. Pointless has been given extra time off to save the world from General Blight and The Nerks.
BARB ratings in the week to 24 June.
Top show of all is Mark Pougatch's The World Cup: Fédération Tunisienne de Football XI prosec The Football Association XI (BBC1, Mon, 16.85m). The series proved to be a one-show wonder; The Football Association XI proces Federación Panameña de Fútbol XI shrunk to 12.9m (BBC1, Sun). At this rate of decline, if The Football Association XI is involved in the final next Sunday, it'll be less popular than Love Island (ITV2, Wed, 4.05m).
Top non-sport show was Coronation Street (ITV, Tue, 7.6m). Second-top game show was Stephen Mulhern's Catchphrase Celebrity Special for Mark Pougatch's The World Cup (ITV, Sun, 2.5m). And then came The Chase (ITV, Mon, 2.35m).
Channel 4's top game was Breadxit Crème de la Crème (Sun, 1.85m); The Crystal Maze brought 1.2m to the table. BBC2's top game was Mock the Week (Thu, 1.35m); Richard Osman had 1m in his House of Games (Wed).
Blind Date continues to stiff, 680,000 this week (C5, Sat). It's almost fallen behind Taskmaster (Dave, Wed, 675,000) and random Celebrity Juice repeats (ITV2, Fri, 665,000).
Last year's Fort Boyard comes to TV5 (Mon). Susanna Reid goes in search of The Game Show Killer (ITV, Thu), he appeared on Bullseye. 8 Out of 10 Cats Does Countdown gets a short run of new episodes (C4, Fri). Next Saturday is the start of a Major Television Event on ITV, one so thrilling we can't talk about it because it's under embargo. And if you're missing Eggheads, it's back on the 16th.
Photo credits: Shiver (an ITV Studios company), Baninjay/Fizz.
To have Weaver's Week emailed to you on publication day, receive our exclusive TV roundup of the game shows in the week ahead, and chat to other ukgameshows.com readers, sign up to our Yahoo! Group.