Weaver's Week 2018-10-28
Last week | Weaver's Week Index | Next week
TwoFour (an ITV Studios company) for ITV4, from 25 September
What do we expect from ITV4? Petrolhead shows, repeats of naff 70s cop dramas, live cycling, and not much else. It's certainly not the home of lavish high-concept game shows.
And yet here we are. Take the Tower uses an "action movie" setting. (What's an action movie? Lots of adrenaline and blowing things up. ITV4 loves this sort of film.) All of the tropes of your action movie are here, starting with the introduction to the team in mean 'n' moody shots.
Dolph Lundgren (a rugged Hollywood actor) sets challenges for a team of four as they go up the Dolph Lundgren Organisation Tower. The team is dressed in black vests. Of course the team is dressed in black vests. It's the genre uniform.
Right from the start, we see a consistent world, it's all got the same controlling brain behind it. The diamond "DL" logo, the limited colour palette. The labels and captions are in Times New Roman, a solid and trustworthy and slightly fogeyish font.
And we see a lift. The team wants to ascend the tower to the penthouse, and defeat the evil mind there. Their journey will be interrupted by some challenges.
Each show has three big set-piece challenges. While suspended from the ceiling, find a master computer. It's the one with "Master Computer" written on the front. We can see that. Dolph Lundgren can see that, and say exactly what we're thinking. But the players can't see the master computer, and the clock is ticking...
All of the challenges are familiar to action movie buffs. The one where they're hanging from the ceiling? That's from Tom Cruise's Mission Impossible. The one where they have to get 4 pints from jugs of 5 and 3 pints? That's from Die Hard. Teams might recognise the references, but still don't know how to do this simple task.
All of the challenges are spectacular. The "hero" (the team captain) plays all three set-pieces; they're the person suspended from the ceiling, or in the hazmat suit. Their companions are along for the ride, often literally.
All of the challenges are difficult, but achievable. It is possible to power on the master computer, grab the keycard, and check out without touching the floor within five minutes. Players can work their handcuffs along a series of pipes, releasing valves as they go, in the time allowed. Possible, but properly challenging. Anyone who succeeds will have earned their reward.
Anyone who fails will take a quick trip up to the penthouse, where Dolph Lundgren is waiting. He'll welcome the minion, commiserate about their failure, and take them over to the window to enjoy the view. And he'll push the minion out of the window.
Dolph Lundgren is almost note-perfect. We had a little difficulty believing that he was a villain, and he never quite delivers the extreme levels of villainy we'd like. But Dolph Lundgren knows how to deliver a hammy script, heavy on the in-jokes and directing much of the silly at himself.
Interspersed with the action sequences are some cash games – mostly verbal quizzes, with one challenge to defuse a bomb holding the dosh. These sequences are a change of pace, heightening expectation for the big stunts. And they save a bit of budget, filling time without spending money on effects or sets. But mostly, these cash games help us to know the team a little better, how they interact, their own little in-jokes, whether the captain truly leads.
Ordinary people doing extra-ordinary things can be a revelation. Take everyone out of their comfort zone and we can get gripping television. Brig Bother said that this bizarreness is funnier than people just shouting at each other, and we agree: television needs less yelling and more "wow, wasn't expecting that".
While this series of Take the Tower is plotted as action movies, we reckon the idea can be expanded much further. Not just in terms of "ask trivia about all sorts of movies", but as "here's a Generic Scene of Peril, and a Difficult Way to Defuse It".
For all of this, the final sequence is almost a let-down. It's a quick-draw sharp-shoot game. Surely more fitting a cowboy movie than this action show. Dolph Lundgren and the captain face off against one another, wait for a light to turn a certain colour. Then they pick up a gun (plastic, gold) and shoot rubber bullets at the coloured figure between them. Best of three wins.
But there's plenty to like about Take the Tower. The show knows what it wants to do, and it delivers on its promise. Real people are given surreal challenges, and the survivors get a trip to New York. Everything is done with love to the genre, and no-one ever punctures the fourth wall.
9pm Tuesday in autumn is a difficult slot: opposite the end of Bake Off, opposite European or international football. Would casual viewers rather see Manchester United or Dolph Lundgren? And ITV4 is not a usual place for new entertainment – the rest of the week is naff cop dramas, action movies, and not much else.
For all these reasons, Take the Tower has stiffed in the ratings, barely creeping above 50,000 viewers. We fear that it's not coming back, which would be a desperate shame.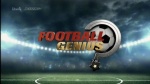 Hat Trick for ITV4, from 25 September
A quiz about football, contested by teams of supporters and a celebrity captain. The celebrity captains come with the show, being Sam Quek from the hockey and Paul Sinha from Fighting Talk and The Chase. The host and referee is Tim Vine, the only host on ITV to wear shorts.
Four supporters are on the team at any one time: they have a defence, a midfield, an attack, and one of those positions contains two people. A substitute is on the bench, and can be brought on during the game. All of them wear the team's strip.
Back in the summer, we reviewed the 1966 entertainment Quiz Ball. And we said...
All of these rules before a single question is asked. They wouldn't make a show like this nowadays; they'd ask the first question then explain how to shoot, and introduce "tackles" when they got round to it.
We were almost right. These days, they actually say "to pass the ball forward, you answer a Medium question. To do something more difficult, you answer a more difficult question. Sam Quek, what's your kick-off move?"
Usually, a pass forward, from Midfield to Attack. Only the player (or two players) in Attack can answer this question; should they get it wrong, the ball falls to the opposition in Midfield. Get it right, and the Attack has a shot on goal, and there's a computer graphic to show the position on the field.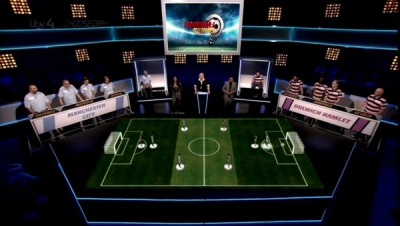 Blimey, Bamzooki's more realistic these days.
When the ball reaches attack, the celebrity captain has the option to call for a Tackle. They have four Tackles to use during the match. Tackle questions contain some sort of visual clip – match footage, a graph, photographs. Actually, strike that, there's no match footage, this is an ITV4 show and they don't have enough budget for match footage. So here's some football matches recreated in Lego.
Tackle questions are difficult, and are for the defender(s). Get it right and their team takes possession; fail and the attacking team has a Penalty – a very easy question on which all four players can confer.
There are other rules – each team can try to overturn one goal through an Offside call, and can dive for a Penalty once in the match. All are full-team questions, and very hard. Attacking teams can also try to pass from Defence to Attack, or Lob The Keeper and score from Midfield – these again need harder questions.
Mercifully, Tim Vine makes it look simple. He cuts through all the kerfuffle and makes it look simple in a way David Vine didn't. By limiting the number of Tackles, we can be sure that Football Genius won't drop into a boring defensive battle, because if we wanted boring defensive battles, we'd be watching Tottenham Hotspur Nil in the Euroleagues.
And Football Genius is thoroughly entertaining. There are three big personalities in the studio – Sam, Paul, and Tim all add something to proceedings, and all complement each other wonderfully. If ITV had more football rights, we'd be calling for this show to go out as the warmdown afterwards, or as late-night entertainment after Premier League Tonight. But they don't, and it has to stand on its own merits, of which there are many.
Heats 1-4
Over the summer, the BBC issued a tender to make Mastermind. Outside companies were invited to pitch for the programme. This isn't anything special, all mainstream BBC programmes will eventually be tendered out in this way. Indeed, A Question of Sport and Songs of Praise pioneered the tenders last year, without anyone noticing.
Leafing through the public documents, we see that nothing significant is going to change. The format is not up for negotiation – specialist and general knowledge questions, the black chair, it's all a solo effort. The show length is not going to change – 31 episodes in the civilian series, and 10 episodes of Celebrity Mastermind. Production must be Out Of London, with Salford, Glasgow, and Belfast the preferred locations. The BBC will provide the host, and intend to retain John Humphrys as Inquisitorius Irascibilius.
The BBC does want some changes, and will particularly welcome a way to increase the show's anaemic social media footprint. They also want to increase diversity amongst the contestants and audience. We were surprised to see the small budget for the shows – just under £3 million for 21 hours of primetime television. That includes fees (well, charity donations) for the celebrity editions, but not what is described as Humphrys' "talent fee".
Expressions of interest needed to be in by late September, so if you want to make Mastermind, first build a working time machine.
On to the show proper, and the first heat was won by Derek Caudwell (specialist: John Hawkwood). Everyone did their specialist rounds justice, and made good efforts at general knowledge; Derek's score was 28 – and 2 passes. Runners-up were Jo Skinner (The West Wing; 27-3), and Roy Smith (Bob Marley; 26-3); Eibhlin McMenamin (Neil Gaiman's The Sandman Series) was fourth in a strong heat.
Andrew Brewer took heat two (Emperor Vespasian, 28-3) with a stonking 17 on general knowledge. Susan Murray (Films of Frank Capra, 24-0) came second, with Mark Hopes (Golden Gate Bridge) and Tara Martel (Alan Turing) also scoring in the 20s.
A very high-scoring heat three went to Helen O'Connell (History of Prague, 30-2), with a blistering 18 in the general knowledge set. Just one behind were Tim Fowler (Peter Gabriel, 29-1) and Brian Davis (Life of Henry VII, 29-1), each dropping one on general knowledge. Kenny Alexander (The Alien films) completed the quartet.
This week, another set of contenders who knew their specialist subject inside-out. Sue Duffy won (the novelist Elizabeth Taylor, 27-2), ahead of Paul Muddle (Zimbabwe 1980-90, 25-3), with Ben Fasham (Prince Henry the Navigator) and Neil Chapman (Sunderland AFC since 1945) also scoring in the 20s.
We hope to see sixteen more strong contenders in a month's time, when we'll also discuss changes to the Mastermind presentation.
This Week and Next
Reports in the Daily Tabloid that there's to be yet another revival of Blockbusters. The original was with Bob Holness, and ran on ITV from 1983 to 1995. Then there was a version on BBC2 daytime with Michael Aspel in 1997, a bit too soon after the original. KYTV showed its commitment to new and original formats with a series in 2000, though it did star Liza Tarbuck. And KYTV showed its commitment to new and original formats with a series in 2012, hosted by Simon Mayo. What can we learn from this? Whoever you are, you're not Bob Holness. Please don't try to be.
BARB ratings in the week to 14 October.
Strictly Come Dancing returns to the top (BBC1, Sat, 12.05m).
Burn-Out hits a new series peak (C4, Tue, 9.2m). The X Factor had its first live shows (ITV, Sat, 6.8m). A new run of The Chase With Celebrities invited Coronation Street stars to play, and they hit 5.1m (ITV, Sun).
Pointless Celebrities (BBC1, Sat, 4.95m) and Have I Got News for You (BBC1, Fri, 4.9m) continued, and Would I Lie to You returned (BBC1, Fri, 4.1m).
On BBC2, finals week for Great Local Menu (peak on Wed, 2.5m) beat University Challenge (Mon, 2.4m). Trouble for Mastermind (Fri, 975,000), it's barely ahead of the much-derided Letterbox (Mon, 870,000).
Over on Channel 4, The Circle live final brought 1.125m; on Channel 5, Big Brother had a round 1m (both Mon).
Top digital shows: Celebrity Juice (ITV2, Thu, 855,000), Taskmaster (Dave, Wed, 635,000), and a repeat of Stephen Mulhern's Catchphrase With Stephen Mulhern (ITV2, Sun, 390,000). On ITV4, Football Genius continues to rate (Tue, 135,000) but Take the Tower still misses the channel's top 50.
Great news for daytime quiz fans, !mpossible is back! (BBC1, daytimes). In a good week for the not-quite-dead, Prosiect Z terrorises more schools (S4C, Tue). Saturday teatime has a new thrill, The Time it Takes (BBC1, Sat).
Two cooking shows reach their finals, Bake Off (C4, Tue) and The Big Family Cooking Showdown (BBC2, Fri). So does music quiz Counterpoint (Radio 4, Mon).
Photo credits: TwoFour (an ITV Studios company), Hat Trick Productions, Central
To have Weaver's Week emailed to you on publication day, receive our exclusive TV roundup of the game shows in the week ahead, and chat to other ukgameshows.com readers, sign up to our Yahoo! Group.