Weaver's Week 2019-03-31
Last week | Weaver's Week Index | Next week
Coming up: the news from Mastermind, and a massive list of BAFTA-nominated brilliance. And after all...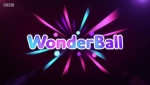 Mighty Scotland for BBC Scotland, from 11 March
Another week, another BBC Scotland review? With a game this interesting, yes.
Your aim is to have the last ball in the velvet bag. That is the "Wonderball", and is worth a jackpot of £2000. Along the way, there are questions and decisions.
The game is played by pairs, three of them in each show. Each pair has a colour – pink, purple, blue – and five numbered balls in the velvet bag. Why are they numbered? We'll explain that later.
Host Catriona Shearer adds a ball of her own, the Danger Ball. If this is the last ball in the bag, no-one wins the jackpot.
From left to right, the teams pick a ball out of the bag. We viewers get to see inside the bag, thanks to a microscopic camera inside.
The Pinks pick the first ball out. It's blue, number 8. This belongs to another team, so the Pinks want to keep it out of the bag. If they can answer a relatively simple general knowledge question correctly, they'll pass the ball along to Catriona, and keep it out of the bag. But should the Pinks manage to get their question wrong, the ball's going back in the bag.
Whether right or wrong, play passes along to the Blues. They pick number 2, a pink ball, so get another simple question. Play passes along.
The Purples pluck out ball 14, one of their own. They would like to put the ball back in the bag, give it an extra chance of being the Wonderball at the end of the game. But to do this, they'll need to answer a slightly harder question. Still not too difficult, and play passes back to the Pinks.
And so the game continues for a little while. Sooner or later, five balls will be out of the bag and on a nifty little display by Catriona.
At this point, play pauses, and Catriona offers each team a cash-out. They can sell one of their balls for a guaranteed £100. The team sell a specific ball, so the Pink team say "We're selling ball number 5", not just "We'll sell any ball".
Hundred quid, cash in hand, no questions asked. Literally, no questions asked – if the ball comes out of the bag, it's straight out of play. And if we finish the show to find the team have sold the Wonderball, tough luck, it's worth nothing more.
After this first cash-out, Catriona adds another Danger Ball to the bag. Yep, that's two Danger Balls in there, both worth the grand non-total of nothing.
What happens if one of these Danger Balls is pulled out of the bag? Catriona will ask a Difficult Question, one to which the answer is obscure. All the teams get to confer on the answer, because everyone wants to see the Danger Ball removed.
And so play continues, with the velvet bag passed around on its own little track in the desk. It's a slight shame they didn't have some sort of gutter to return the balls to Catriona, but budgets are tight on this show.
After five more balls are out, seven remain in the bag. Catriona offers another cash-out, this time sell any ball for a guaranteed £200. The risk here is that your last ball might come out of the game in the next round, but that each ball has a good chance of being the Wonderball.
There's another Danger Ball into the bag, and another round of questions. This time, a little shorter, only three balls come out. Should any team have no chance of the Wonderball, they're passed over – they don't pick balls, and can't confer on Danger Ball questions. This applies if all their balls are out, or if they've sold their last ball but it's still in the bag.
Five balls remain, and Catriona offers one last chance to sell a ball – this time for £300. A guaranteed chunk of money, or a one-in-five chance of winning the jackpot? Or maybe both! Do you feel lucky, Pink?
The final round does away with the questions, it's a straight dive for the Wonderball. Out comes a ball, and we know it won't win. Out comes another, and another. Danger balls are averted. Teams fall by the wayside, and if they've sold something, we hope to see it.
A tense climax is almost certain as the final ball is pulled out. The Wonderball is confirmed, and we work out what's happened. Danger Ball? No-one's won anything. Sold ball? Tough: the team took guaranteed cash.
Still in play? Yay! £2000 is yours, plus anything from selling other balls earlier.
Like on Pointless, all teams get two goes unless they win the jackpot.
When we come to write it down, we're amazed at how complex Wonderball actually is. So many branches, so many if-then-elses, lots of conditional probabilities and subclauses. Catriona Shearer does a tremendous job by making it look almost effortless.
What she doesn't – yet – bring to the format is much excitement. The show is polite and pleasant and a little bit staid. We can just about imagine what Chris Tarrant would have made of this format: he'd have come up with at least five catchphrases before the end of the first week. He'd also have dominated the show in a way Catriona doesn't: the stars are the contestants and the balls, not the host and her questions.
There are a few things we'd improve for a second run. We've become accustomed to muzak playing throughout shows, and we note (neither approve nor disapprove) that Wonderball plays in silence. Perhaps we could use a subtle sound effect to mark the appearance of a danger ball, or something more strident than quiet tapping to mark the end of a round.
While we love the pastel aesthetic they've chosen, it comes at a cost. Some viewers have found it hard to distinguish between the colours of the balls: pink, the dark purple, and sky blue are all quite close on the colour wheel. Others found the black numbers hard to read on a dark purple.
The questions are up to Mighty's usual standard, solid quiz chestnuts with a distinct lean towards Scottish culture. We'll hear more questions about Albion Thistle and fewer about Manchester Town; more from The Silencers and less from Oasis.
Wonderball is a magnificent, relaxed, shoulder-prime quiz. It would fit in well on BBC2 in their Eggheads quiescence, a warm and witty alternative to the news. Would have fit well on Channel 4's half-hour quiz slots a few years back. It doesn't need to be any longer than it already is, 30 minutes is just enough quiz to not feel rushed, but not feel drawn out.
Overall, we're very much in favour of Wonderball. It's a gentle half-hour, and fills its space with bonhomie and good feeling. Any show that has us rooting for all the contestants all the time is doing something very right indeed.
We pick up on 8 March, an episode won by Karim Lalani on 22 points. A strong round on Vivian Leigh proved enough, in a week when no contender reached the usual heights with their general knowledge. The others were Elizabeth Boughton (Cazalet novels of Elizabeth Jane Howard), Anne Stewart (Flight of the Earls), and Benjamin Meredith (1990s hip-hop).
Lucy Glass won the next heat, reaching 24 points through the funk musician Prince, and a general knowledge round where the contender's always in the moment. Good work from two unrelated contenders, Tom Stephenson (Judeo-Claudian dynasty) and Geoff Stephenson (Life and Work of Thomas Telford) were on 23 and 22 respectively. Susan Simmons (Novels of Charles Dickens) was a little further back.
Sean Climo looked very impressive, with the life and work of Egon Schiele yielding a score of 27. Excellent research on specialist allowed an uneventful general knowledge round. Six points further back was Jeremy Baker (Novels of Mary Wesley), with Kathy Bracy (Trojan War) and Abhi Chatterjee (The Goons) a point or two further back.
Judith Lewis was also impressive, winning the most recent heat on the Life and Work of CS Lewis, then knocking 15 points on general knowledge for a total of 29. Nick Henderson (Pop music of the 1970s) might have benefitted from a narrower subject, he certainly has the general knowledge. Derek French (Neville Chamberlain) and Paula Keaveney (History of Sparta) completed the four.
Two more heats, which we'll cover along with the first semi-final.
This Week and Next
British Academy Television Awards – Nominations
Nominations for the BAFTA Television Awards are out. They'll be presented on 12 May.
Comedy Entertainment Programme
Entertainment Performance
Anthony McPartlin, Declan Donnelly Saturday Night Takeaway – ITV Studios / Mitre Television / ITV
David Mitchell Would I Lie To You?
Lee Mack Would I Lie To You?
(and one other)
Entertainment Programme* Ant & Dec's Saturday Night Takeaway
Features
Reality & Constructed Factual
British Academy Television Craft Awards – Nominations
Director: Multi-Camera
Entertainment Craft Team
Dave Davey, David Tench, Dominic Tolfts, Kevin Duff The Voice UK
Lisa Armstrong, Jason Gilkison, Mark Kenyon, Richard Sillitto Strictly Come Dancing
(and two others)
And that is the end of the BAFTA nominations.
BARB ratings in the week to 17 March.
Cheat (ITV, Mon, 8.5m) is not a game, it's a drama. And it's the top show. Leading game: Celebrity Bake Off (C4, Tue, 5.3m).
The Voice (ITV, Sat, 4.7m) was almost beaten by Masterchef (BBC1, Thu, 4.6m). Pointless Celebrities (BBC1, Sat, 4.2m) not far behind.
Sewing Bee did well (BBC2, Tue, 3.4m), as did Comic Relief Does University Challenge (BBC2, Fri, 3m).
The weekly UC is a little further back (BBC2, Mon, 2.65m), but well ahead of Only Connect (2m), because of schedule changes.
Top digital shows: Portrait Artist of the Year (Artsworld, Tue, 450,000); Hypothetical (Dave, Wed, 350,000), QI XL (Dave, Wed, 335,000). Next biggest game commission is Sam and Mark's Big Friday Wind-Up (CBBC, Fri, 135,000).
As the numbers are floating about at the moment, 5.5m to 6m is roughly the audience for an episode of Countryfile. 1.75m people is the best audience for a Richard Ayoade-hosted The Crystal Maze on Channel 4.
BBC1 daytime gets a new antiques game show this week. Curiosity (weekdays) has teams curating a collection. Celebrity Painting Challenge (BBC1, Thu) does exactly what it says on the tin.
Will either of these become Favourite Gameshows? Channel 5 has a talking heads clip show on Sunday night. They've also the return of Celebrity Game Night (C5, Fri). It's the finals of Sewing Bee (BBC2, Tue) and The Voice (ITV, Sat), and the start of Have I Got News for You (BBC1, Fri).
Photo credits: Mighty Scotland.
To have Weaver's Week emailed to you on publication day, receive our exclusive TV roundup of the game shows in the week ahead, and chat to other ukgameshows.com readers, sign up to our Yahoo! Group.