Weaver's Week 2020-09-27
Last week | Weaver's Week Index | Next week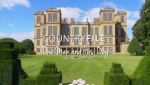 A short Week this time, we had less to say about our lead review than we expected. We could pad out by saying how "Countryfile" sounds like it's Richard Osman's bedtime reading, by which he means a book that is a member of his nightly routine in its own right.
Or we could mention this week's unusual credit: "Head of Sheep".
BBC Studios Unscripted Productions for BBC1, 20 September 2020
Hardwick Hall in Derbyshire is this year's home for Matt Baker, Gold Badge holder, The One Show star, and all-round television deity. Set high in the rolling hills, the house was built in the early 16th century by Bess of Hardwick.
We're in the front lawn today, the hugemungous Wine Glass field, named because it resembles a wine glass. And by "huge", we mean "something like 500m from stem to cup, and a similar distance across".
In any normal year, One Man and His Dog is a team competition. A shepherd with a dog, a shepherd with two dogs, a young shepherd, and/or a bloke shepherd would compete in the one-day final. By tradition, the teams are named "England", "Ireland", "Scotland", and "Wales".
This is not a normal year. There's just one male shepherd on each team, accompanied by his dogs. The humans keep their distance in a graceful way: each has his own gazebo, surrounded by bales of hay.
Matt is joined for commentary duties by Andy Jackman, another One Man and His Dog institution. And owing to a mix-up with the bookings, the fair weather from when Matt did his pieces to camera are replaced by wind and rain from Storm Francis. Filming is dated precisely, to Wednesday 26 August.
Any show running since 1976 will have developed traditions. Some – like the long series leading to a final – have fallen by the wayside. Other traditions are maintained. We begin with the "singles" round, our shepherd controls one dog, and works with five sheep. We're reminded of concepts like the "outrun" and "lift" – head out to the sheep, and then start them moving.
"Fetch" tries to guide the sheep through a fairly narrow pair of gates. Picture this: you're standing in one football goal, your dog is herding five sheep towards you, and you want them to pass through the goal at the other end of the pitch. This is not easy.
After this, everyone goes for a "drive". Out through another set of gates, across the field through another set. On this flat field, there are no landmarks to help guide distance and perspective. Then there's a "Maltese Cross" section, through both legs of a + sign, before the sheep go to the "Pen".
The course is based on real farming situations, we're told. The shepherd stands at his post, sends his dog out to get the sheep. He directs the dog left and right, forwards and back, when to lie down and hide from the sheep. Only through experience can the shepherd predict how the sheep will react, how to get them to move down the field, through the gates between fields, and eventually in the pen.
Every year, we tune in to One Man and His Dog out of some duty. Every year, we leave it wanting more. This show makes compelling viewing.
There's high tension as the sheep consider which way to go: forwards, take a left when the farmer doesn't expect it, gambol over the fence, turn baaaack and leave him bleating. The shepherd can't tell the sheep where to go, he can only control the dog. The dog can't tell the sheep where to go, he can can only influence the sheep by position and size. If the sheep insist on going the wrong way, they're going to go the wrong way.
For added difficulty, Malcolm Sowerby (the Head of Sheep) has chosen to use Texel Cross sheep: cross by name, and cross by nature. These woollen animals have a stubborn streak, and it shows in one of the rounds. "Oh, the sheep just aren't going with the farmer there," a polite way of saying "if we weren't on network television, these sheep would be turning up with mint sauce".
The first course – single, with just one dog – is marked out of 110; the brace – with two – can score 140. We get the score for each element of the course as soon as we've seen it. Would this happen in real life? Perhaps: the judge knows what she's looking for, and will be able to mark quickly and precisely, and then move on to the next element. But we can be sure the mark wouldn't be announced over a loudspeaker, this extra knowledge is reserved for us viewers at home. Builds up the tension through the round.
There's a brief profiles of each shepherd before his first run. We don't learn much about the dog, just her age; and nothing about the sheep. As befits a show founded in 1976, One Man and His Dog spends less time getting to know the players and more time on the games. What a strange idea. Each year's show does have some additional features, this time it's a few minutes talking to an expert on border collies. Charlotte Smith is the reporter, and she's also on the field here, an extra voice so it isn't all Matt and Andy talking.
We looked at One Man and His Dog back in 2012, when they tried to air the programme live. It didn't go well, technical problems and clashes with golf meant the "live" second round went out a week later. This recorded programme is edited down, a 20 minute run is compressed to 5 minutes of action. It removes some of the more tedious moments, where we're covering ground between the start and the hurdle, but we still see the key events.
When it's done well, sheep herding is seriously impressive. It's a game of poker: just wait, wait, wait, wait – bang! Long periods of nothing happening are followed by those fleeting moments when everything happens at once. The sheep try to beat the dogs in a stare-out contest. The shepherd and dog convince the flock to go straight through the Maltese cross.
Some of the shepherds use whistles, different tones for the two dogs in a brace. Nij Vyas, one of this year's competitors, talks to one dog in English and the other in Welsh – whatever gets you through the trial.
It's the hope that kills you. Running last, the leader had to try once, twice, three times to "shed" his flock, split them into two equal groups of five. Can he do it? Will the dogs help, or hinder? Will the sheep stamp their feet and refuse to move, or will they head into the pen?
In the end, the points are totted up, a winner is declared, a trophy awarded.
But it's the meta-story that makes One Man and His Dog so watchable. For five minutes at a time, we're intrigued by the power battle on the screen. The sheep are scared of the dog, but can they be forced to move? The dogs are intelligent creatures of their own, will they take the hint from the shepherd? In an event with so many intelligent beings, anything can happen.
When it all comes together, it's a thing of beauty; when it doesn't, we can choose to laugh or choose to cry.
This year, the best shepherd in the trial was George Gardner, with his co-workers Bonny and Meg. The sheep did co-operate, eventually, and a good final pen ensured the title for his "Scotland" team. We'll be back for next year's run.
In other news...
"What sort of menu would a two-faced plumber from Swansea who hates orange food select?" Stuck inside more than you expected? Want to socialise with your friends but don't want to expose them to anything that could cause serious pain – like your cooking? Come Dice with Me is the game for you! Created by comic writer, sea-monster, and all-round good egg Kieron Gillen, Come Dice with Me is a free role-playing game. You'll need nothing more than a pen and paper, one dice, plenty of imagination, and some friends. You don't need to know how the television show works, and you don't even need to know how to cook. One PDF, zero pounds spent, literally hours of fun guaranteed or your money back.
Last year, we heard that Comedy Central was not going to commission any new shows. This came as news to the commissioner at Comedy Central, who has commissioned new shows. The pay-tv channel, which sits alongside Channel 5 in Viacom's stable, has commissioned Guessable, a new panel show hosted by Sara Pascoe. CC's press release insists that the show is hosted by Sara Pascoe, features a panel, and is called Guessable. The press release asks itself what more we need to know, presumes "nothing", and goes on to witter about some non-game with Jon Richardson.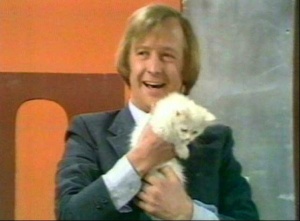 Our inbox has rattled with a newsletter, from a Mrs. Trellis of North Wales. She writes, "Dear Frankie, I'm Sorry I Haven't a Clue will be back at the end of November. Our new series will include the two episodes we recorded in Harrogate ten million years ago, the best tribute we could offer to Tim Brooke-Taylor. We'll then have four episodes with Barry and Graeme, Dame Sandi, Rory Bremner, Andy Hamilton, Jo Brand, Harry Hill, and Pippa Evans. Everything's been recorded remotely, and the audience didn't even need to be in the same room as Jack Dee and his jokes. It's the best protection in case he cracks one off."
Still no news about a new series of Just a Minute, nor of the BBC exploiting the large catalogue of archive episodes. Go on, stick some episodes out at 8.10 in the morning and see the world get that little bit better.
We plan to take another break next week – gird our loins to write about Gino's Family Fortunes and Celebrity Karaoke Club, amongst others. Here's a two-week highlights package. A new series of Have I Got News for You on BBC1 this Friday. The Wall returns to BBC1 on Saturday night – and we do mean night, it's on at 9.15. English-language Mastermind completes the Quizzy Monday triple-header (BBC2, 5 Oct). Turning up later that night, it's Guessable (Comedy Central) about which we still know nothing. Black history show Sorry, I Didn't Know gets a turn on ITV (Tue 6 Oct).
Photo credits: BBC Studios, Action Time.