Weaver's Week 2021-06-20
Last week | Weaver's Week Index | Next week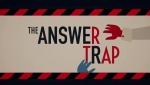 We've had a letter come into the office. It's from a Wendy K of Bognor Regis, and she writes,
Dear Radio Times,
What's not to like about The Answer Trap (C4)? It's the perfect afternoon game show: devilish and taxing answer traps set by Frank Paul and Bobby Seagull and hosted by Anita Rani, who joins in the fun.
The contestants are always interesting, but you do have to know your subject to win and be clever at sorting through the minefield of traps. The important question is: will it return for another series?
Do we have anything more to say on The Answer Trap? We do, agreeing entirely with the Sussex correspondent.
Objective Media Group and Motion Content Group for Channel 4, 10 May – 18 June
The mood is set from the opening titles: a brassy, jazzy tune plays, while animations of three people do some strange things. Are they working against each other? Looks like it. We're reminded of a spy thriller, more Hercules Parrott than James Bond.
Anita Rani is our host, a bluff Northern lass whose quiz credentials go before her. Brilliant at Celebrity Mastermind, stormed every round on House of Games except Answer Smash, and did All Day Popmaster the other week.
The opponents are the resident Trappers, Frank Paul and Bobby Seagull. Both of these young gentlemen are Cambridge-educated, and both build their parts up as the twisted evil geniuses we love to hate.
A game show wouldn't be much fun without contestants. After all, what is the point of setting a trap if nobody is going to fall into it? This column has a 100% record with the Stegosaurus Trap in our back garden – we've never been troubled by a spiky-backed dinosaur – but that might be because there have been no stegosauruses since before Chris Tarrant met a custard pie.
So we meet the contestants, two pairs who know each other as housemates, relations, marriage, that kind of thing. Yes, The Answer Trap was recorded during the current health emergency, but we'd never know it just by looking at the show – the distance between pairs of contestants has become unremarkable, and the Trappers are split by furniture.
We start with round one. Our contestants see a board of nine answers, and two possible categories. Are these things hard cheeses, or working dog breeds?
Put an answer into the right category, win £50. Put an answer into the wrong category, win nothing. Pick an answer that fits into neither category, and they've found an Answer Trap. This is bad for their game, as two Traps will end the round at once. But finding a Trap is good for the show, because it allows Bobby or Frank to talk about the trap they've laid and that our contestants have stumbled into.
All of the boards have a fairly easy start. Cheddar, that's a hard cheese. Boxer, that's a dog breed. Then it gets a bit more difficult. Hereford Hop, is that a cheese? Apparently so, and it sounds delumptious.
Aardman?
No, a Trap. that's the animation studio, famed for the cheese-loving dog Gromit. Sirens sound, the studio goes red, and the trapper explains himself.
Both teams get their own board. There's a possible £350 to be won, most teams snare £250 or so.
Round two follows after the break. One player from each team plays a board, with 12 answers on it. Eight correct answers, at least one in each category, and four traps to avoid. Play alternates between the teams, and each starts one of the boards. It's £100 per correct answer, and the round ends when all teams are trapped out, or all correct answers are found.
Though we've summarised this round in a paragraph, it takes almost 15 minutes to play both boards. The show is slower than some we've seen, but never ponderous. We're allowed to consider and deliberate, but it never feels like they're dragging out time. By the end of the round, teams are usually somewhere around £800 to £1200.
Round three concludes the game. Sixteen possible answers, four traps, and three categories. Which of these actions are things Rick Astley would never do, which are things Meat Loaf would do for love, and which are things All Saints have never ever done. It's referencing massive hit singles from 1987, 1993, and 1997, bang on target for Channel 4's 3pm audience of parents and grandparents.
For this round, it's a massive £200 per correct answer. But now, if a team puts the answer in the wrong category, it can be pilfered by the opposition – still for £200. Again, two traps will eliminate a team from the round, and Anita will tell us when a team's no longer able to win. They're invited to play on for pride, get one over the trappers.
If a tie-break is needed, it's Sudden Death Trapping, the first team to pick a false answer from a choice of two loses.
The final again has sixteen possible answers, of which just ten are correct. Fully six are traps. There's only one category in the final, chosen from a choice of two.
Eight correct answers wins the team the prize from the main game – usually somewhere around £2200. Nine correct answers will win them twice as much. Find all ten right answers and they take the jackpot of £10,000. It's possible – it's been done on air – but it's very rare. But find two traps, and our team are out – even if they've got nine correct answers.
Dodging the traps
Three things stand out on The Answer Trap: the quality of the right answers, the wit of the wrong answers, and the interplay between the characters in the studio.
Let's start with the questions themselves. "Things Rick Astley would never do, things Meat Loaf would do for love, things All Saints have never ever done". In one elegant movement, we're taken back to three moments in a shared pop culture, comparing and contrasting what the Appletons didn't, Astley wouldn't, and Loaf would.
Sure, we can sing some of the songs and remember that Rick is never going to "give you up", or "let you down", but would he never "let the fire burn"? Mr. Loaf would do "anything", but would he "answer right away"? Would he "be there till the final act", or have the Saints never done that? It's so difficult!
Question-setters Paddy Duffy, Conor Morgan, and Thom Poole have a sharp wit. They could have gone for comedy comparisons, but chose to remain sober. It's the right call, the serious show deserves serious questions. And they know the questions are the platform for the stars of the show – it wouldn't be The Answer Trap without Frank and Bobby's misdirections.
And the traps, plausible but incorrect answers. Cathy Gale, was she one of Marvel's Avengers, or another sort? Frank Hayes, wasn't he the first minister of Northern Ireland for about ten minutes on Thursday? And Peter Robinson, surely that's not a politician, that's a bloke from Neighbours.
Over the course of the show – and of the series – we get some little insight into the Trappers' styles. Frank goes for a multi-layered approach, putting in wrong answers that allow him to tell a story, or build up a story through the episode. On one show, across the rounds, his traps included the words "Tango" "Alfa" "Romeo" "Papa". Bobby is a little more direct, his wrong answers are always plausible but never right.
These regulars – Frank and Bobby, and host Anita Rani – shape the competition between the teams. Pleasant, good-natured, but oh so very competitive. The set is dressed like a library – similar to 1001 Things You Should Know back in the day – and it fits the show – studious and serious and a little scurrilous. Anita is authoritative and knowledgeable, and we can totally believe that she's filling in many of the facts from her own knowledge.
Dig your own trap
It is, of course, possible for viewers to devise our own answer trap boards. Social media was briefly flooded with efforts by people who loved the show and wanted to be a part of it. We thoroughly approve, it's free marketing for The Answer Trap and helps tell people about this obscure show in a little-loved part of the schedule.
More to the point, this is how we know a show is going to be a hit. If people take it away and play it with friends and family, you know it's got great potential. Only Connect grew by just this word of mouth, in a way Very Hard Questions and Hive Minds never did. Countdown was easy to play on a wet Sunday, but you couldn't build your own Going for Gold. More recently, House of Games inspired lots of smashing answers, while Decimate just slipped away in tenths.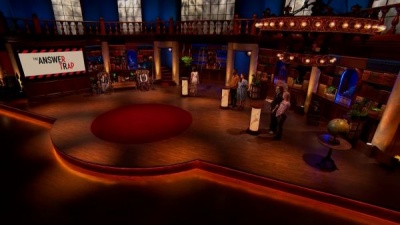 The set is a library, as swish and elegant as The Hustler
Sadly, Channel 4 at 3pm is seen by almost nobody. Established quizzes like Tenable siphon off many of the viewers, and we understand The Answer Trap has been seen by around 150,000 people. That might not be enough to bring it back, which would be a terrible shame, and something of a missed opportunity.
The Answer Trap is a solid format to start with, and it is produced tremendously well. Once we viewers understand the show – and it took no more than 20 minutes till we got our head round it – it became a show worth seeing, and worth seeing often. We hope to get the chance to see more trapping.
Next week, we conclude a look round new quiz formats with Unbeatable, Jason Manford's new daytime show.
In other news
Last month's Eurovision Song Contest was the venue for a mass experiment. The Fieldlab Events test was to see if people could safely attend indoor concerts without getting a horrible airborne disease.
The results are in, and "yes" is the answer. The infection rate amongst the audience was about 1.6 people per thousand – somewhat below the world outside at 4.9 people per thousand. Fieldlab Events point out that this only covers the audience, and not (for instance) blokes playing the piano while a single lightbulb descends.
Awards season has continued. Celtic Media Festival has announced nominations for its awards. What piques our interest?
Radio Comedy, where Breaking the News (Radio Scotland) is one of six nominees.
Single Documentary includes Being Gail Porter (BBC Scotland), one of the really popular hosts from a few years back.
Entertainment doesn't have a game show nominee, as The Blame Game (BBC Northern Ireland) doesn't award points.
In Children's Programmes, we see PokeGwel (France 3 Bretagne), where children try to spot animals on their list, and might possibly pass as a game if we squint hard enough.
Winners of the Torc Awards will be announced between 7 and 9 September. The Celtic Media Festival proper plans to resume in Quimper next year.
Football rules the roost this week, and just one game show of note. Countdown finals week (C4), which also marks the last week with Nick Hewer. Will we miss him? You be sure of it!
Pictures: Objective Media Group and Motion Content Group.
To have Weaver's Week emailed to you on publication day, receive our exclusive TV roundup of the game shows in the week ahead, and chat to other ukgameshows.com readers, sign up to our Google Group.