What's Happening?
Host
Co-host
Leonard Parkin
Broadcast
Central for ITV, 20 July 1982 to 7 September 1983
Synopsis
A live programme in the Watch It! children's strand. Teams of four children represented their independent local radio station, and were quizzed on the events of the week. A bit like watching John Craven's Newsround and being asked questions later.
In one round, ITN newscaster Leonard Parkin read out some reports prepared specially for the programme, and the teams had to spot the deliberate errors.
The first champions represented Beacon Radio in Wolverhampton. Host Tommy Boyd would later reflect that most of the winning teams were from Scotland.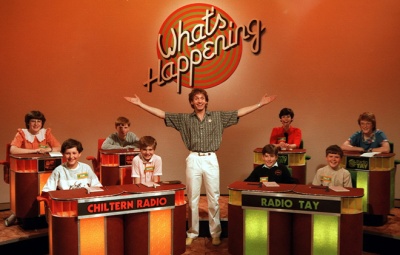 And the correct answer in our 'What substance is Tommy Boyd on?' quiz was: full-fat Tizer.
Feedback