Who Let the Dogs Out?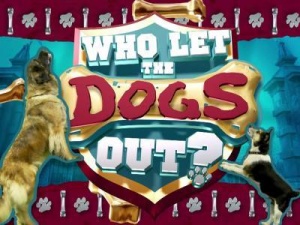 Host
Zak George (2011-12)
Ashleigh Butler and Pudsey (2013-4)
Steve Mann (2013-4)
Kate Edmondson, Ashleigh Butler and Pudsey, Claire Gillies, Scott Miller (Who Let the Dogs Out and About?)
Co-hosts
Voiceover:
Rik Mayall (2011-3)
Iain Stirling (2014)
Broadcast
BBC Scotland for CBBC, 21 September 2011 to 5 December 2014 (52 episodes in 4 series + 1 special)
as Who Let the Dogs Out and About? 19 January to 23 March 2013 (10 episodes in 1 series)
Synopsis
Zak George (who was, almost interestingly, credited as "Presenter & Producer" in series one, making him the latterday William G. Stewart) presides over a canine tricks competition. Each episode starts with an "auditions" section from which three children and their dogs are chosen to learn a trick. Whichever kid/canine pair does it best at the end wins, somewhat inevitably, a "golden bone" trophy.
A very similar idea was used for later series, though these were structured as longer tournaments, with heats, semi-finals, and a grand final crowning an overall winner.
The show had a roadshow spin-off, with the somewhat unwieldy title Who Let the Dogs Out and About. Kate Edmondson presented the show, which came from a different location each week. She was joined by Scott Miller (vet), Claire Gillies (dog expert and the show's producer), and Ashleigh Butler and Pudsey (Britain's Got Talent winners). Ashleigh and Pudsey went on to present the next series of the main programme.
Theme music
Dobs Vye
Trivia
Comedian David Schneider is credited as Voiceover Writer.
Iain Stirling took over the role of announcer after the death of Rik Mayall.
Web links
Opening titles from the BBC Motion Graphics Archive
Feedback