Who Said That? (2)
Host
Irene Thomas (Radio 4)
Ned Sherrin (BBC2)
Broadcast
BBC Radio 4, 20 April 1974 to 1977 (in Woman's Hour)
BBC2, 30 June to 4 August 1976 (6 episodes in 1 series)
Synopsis
Two players (teams of two in the television programme) took part in this quiz identifying quotations.
The information we have for this programme is uncertain or incomplete. If you have any other information to add to this entry, please send it to us using the Feedback form below. Thank you!
Pictures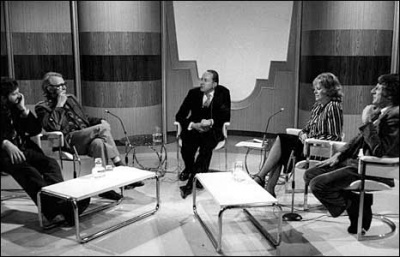 Ned Sherrin presides over another quotations quiz
Trivia
The radio version was both compiled and presented by Irene Thomas. It started as a mini-show within Weekend Woman's Hour, moving to the Monday programme in autumn 1974. It ran - perhaps intermittently - until at least May 1977.
Feedback