Wild Things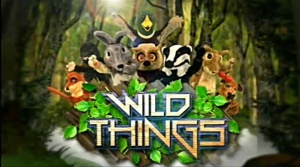 Host
Broadcast
IWC Media, Group M Entertainment and Mad Monk for Sky 1, 15 March 2015 to 14 May 2017 (26 episodes in 3 series)
as Wild Things: Absolutely Livid 16 to 30 April 2015 (3 episodes in 1 series)
Synopsis
People dress up in oversized animal costumes, and are given daft things to do.
The genesis of Wild Things was a game in My Little Princess, where contestants wore massive mouse costumes, so large they couldn't see out, and ran blind down a track to get the cheese. Two years later, the costumes came back.
The show sets out its knockabout potential early on, with an obstacle course. Six animals begin, only four can enter the Wild Woods. Whoever gets knocked out by the conkers, or stumbles over the logs, will be locked out.
The animals aren't alone on their quest - they're guided by a human, who is able to see what's going on, and can give instructions to their costumed friend. Sometimes, there's an earpiece; sometimes, everyone shouts at once.
The middle part of the show contains four challenges. There are a couple of races involving all the animals at once. There's a skill test in which the human is in deadly peril and can only be saved by their animal, and a general knowledge quiz where an error will make a mess of the human.
Wild Things is a Gary Monaghan show (see also: Banzai, Hercules, My Little Princess) and again draws upon his extensive record library. Every week, there's a different version of "In the Hall of the Mountain King", by increasingly arch music performers (and The Wombles). The music selections help to keep the programme interesting even if the game is a bit tedious.
The prize game is the same each week. The winning team is given a suitcase containing £10,000. The animal is told to aim for a gate and then find a target, and 30 seconds to run to it. Make it in time, marvellous, that £10,000 is yours. Otherwise the winning animal stops, and the other three animals are allowed to chase for half a minute. Catch up with the suitcase and that animal bags it. Then whoever's got the case has 30 seconds to move.
And, of course, the animals cannot see a thing. They're guided by their playing partner, through televisions and walkie-talkies. It's a properly tense final game, where no side is out until they're all out.
Game commentary comes from Jason O'Byrne; he hosts the show with Kate Humble. The show went out at 7pm Sunday, showing it's aimed at the family audience – something for children of seven to see before they head to bed. A version for older viewers, containing more rude language, went out at 10pm Thursday. "Wild Things: Absolutely Livid" owed its subtitle to a Not the Nine O'Clock News sketch involving Gerald the gorilla.
Wild Things is a light entertainment. Like all of Gary Monaghan's shows, it asks deep questions in an interesting way. What is it like to be without sight? Can you communicate effectively with your nearest and dearest by voice alone? And the show makes sure to put the entertainment first.
Trivia
Costumes were made for the programme by Frenzy Creative.
The quiz questions were voiced by Lewis MacLeod.
Each event was explained by paper animations, made by Hamyard TV.
Web links
See also
Feedback