Would I Lie to You? (1)
Host
Steve Penk
Co-hosts
Lucy Mortimer
Broadcast
Grundy for ITV, 22 August 1998 to 1999 (pilot + 9 episodes in 1 series, 1998 as Truth or Consequences)
Synopsis
Steve Penk is really talented. No, really! Would I Lie To You?
Well, consider this - his mate, the excellent impressionist Jon Culshaw (who does a mean Dale Winton, if that's not a contradiction in terms) manages to get through to Prime Minister Tony Blair live on the radio by doing an impression of William Hague and then Steve Penk gets his own show. Hmmm...
Except it's not really his own show, it's Game for a Laugh 1999 style, only not nearly as popular. Or as funny. In fact, it was axed after half a series and only several months later did ITV play the other half.
If every flippin' single game didn't revolve around somebody being set up by their mate/partner, maybe it would be more spontaneous, more dangerous and therefore more fun. But at the moment it just seems to creak through all the old Beadle and Edmonds-style stunts of the late 80's.
And that's all you need to know about it.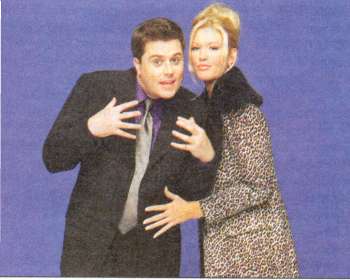 Steve Penk and hostess Lucy Mortimer
Catchphrases
"Now (insert name of unknowing victim here), would I lie to you?"
Inventor
Based on the Truth or Consequences format from the US, created by Ralph Edwards (who also created This Is Your Life).
Feedback