You've Been Framed!
Host
Richard Madeley (non-broadcast pilot)
Jeremy Beadle (1990-7)
Lisa Riley (1998-2003)
Jonathan Wilkes (2003-4)
Harry Hill (voiceover: 2004-22)
Co-host
Announcer: Andrew Brittain
Broadcast
Granada in association with American Broadcasting Company, Vin Di Bona Productions, Tokyo Broadcasting System and Action Time for ITV, 14 April 1990 to 27 August 2022 (approx. 540 episodes in approx. 31 series + approx. 104 specials)
Synopsis
The UK's gold standard in clip shows which, like America's Funniest Home Videos, occasionally had a game show segment.
In You've Been Framed! (exclamation mark obligatory), contributors compete to get their funny home videos on TV - for every clip that makes it to the screen, contestants are awarded £250.
During the first four series, the studio audience voted for the funniest clip in every show to go through to a season finale where £5000 and a shiny new camcorder were up for grabs. In Series 15 the weekly competition returned entitled Clip For A Trip, giving three finalists the chance to win a £1000 holiday if they could win over the studio audience with their funny moment caught on tape.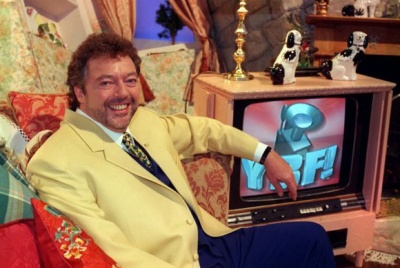 Original host, Jeremy Beadle in the cosy house era (1994-7).
Prankster Jeremy Beadle presented the show for eight years with Emmerdale's Lisa Riley taking over, with some controversy, for five further series from 1998. Jonathan Wilkes took the reins in 2003 for two series in studio (very much influenced by the 'zoo' formula of Ant and Dec's Saturday Night Takeaway - featuring kids talking about their favourite clips, surprises for audience members, holiday competitions & Naming and Shaming clip fakers) and one series on location for a daytime transmission.
Comedian Harry Hill was the final host, giving voice to the falls and fails for almost two decades. By the 2010s, You've Been Framed had become weekend filler for any awkward slot on the ITV schedule - light-hearted and inoffensive and daft as a brush.
Video sharing websites and social media hadn't been dreamed of when You've Been Framed debuted. Heck, the web hadn't been invented when You've Been Framed debuted. After the 31st series, which dribbled out between 2020 and 2022, the show quietly went out of production.
Members of the public who have 87-year-old uncles likely to put up a rickety shed in the back garden, or grannies with a particularly high centre of gravity at weddings, could lob their VHS, Mini-DV's, CD-Roms, DVD's & Hi-8s to FREEPOST - YOU'VE BEEN FRAMED!
Catchphrases
Jeremy Beadle: "Next week, the star of our show could be you!", "Bundle it off to Beadle!"
Lisa Riley: "Don't do anything stupid, unless you're being framed!"
Jonathan Wilkes: "I don't have a catchphrase!"
Harry Hill: "Is that the time already?", "Until next time, Cheerio!"
Theme music
Ray Monk
Trivia
Up to 180 clips are used in each show.
Little known fact - Richard Madeley presented the untransmitted pilot. Hmm, Richard Madeley. We can't see it - Can you?
One 1992 episode managed to rake in 19.3 million viewers, making it the 13th most highest rated programme of the 1990s.
Web links
One of the show's more elaborate studio designs
Feedback