Charles Nove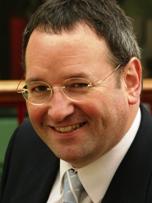 Biography
After a stint in hospital radio in his native Glasgow, Charles Nove became the BBC's youngest presenter when he was hired in 1978 for the new BBC Radio Scotland.
Three years later, he went down to London and joined Radio 2 as a newsreader, announcer and presenter of overnight show Nightride and weekly film magazine Cinema 2. Around this time, Charles got into television, announcing for BBC1 and BBC2 in both London and Glasgow. He also became the long-serving commentator for the original Come Dancing.
After an extensive freelance career, Charles returned to Radio 2 in 2007 to become one of the main newsreaders for Sarah Kennedy's Dawn Patrol, Wake Up To Wogan and the Ken Bruce show. Nowadays presents for Scala Radio and runs the A1 VOX sound studios in London.
Trivia
Charles was also the guest announcer for the infamous Bruce Forsyth episode of Have I Got News for You.
Charles owns a quarter share in a 1966 London Routemaster bus. Two of the other shareholders are Radio 2 chums Ken Bruce and Alan Dedicoat. He also runs a company hiring out vintage buses for special events, which is how he ended up driving David Van Day around the country for Brides On a Bus.
Web links
Feedback