Bruce Forsyth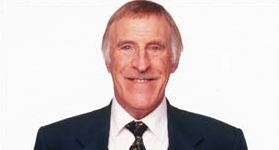 Biography
London-born entertainer whose 60+ year career has been rooted in traditional variety since the age of 14, when he appeared on playbills as Boy Bruce, the Mighty Atom (presumably after the then-current advertising slogan for Oxo Cubes). He successfully made the transition to adult performer, billing himself as Bruce Forsyth - The Incredible Character and worked at venues such as the Windmill Theatre (where he met Barry Cryer). In 1958 he was asked to join one of ITV's early hits, Sunday Night at the London Palladium, which made him into a national celebrity.
He is still best remembered for hosting the Generation Game on the BBC during the 1970s, where Bruce's talent for interacting with the public shone through. He also appeared in numerous film and stage roles.
Since the 1980s he has presented numerous popular game shows, such as Play Your Cards Right (two incarnations), The Generation Game (again) and The Price is Right.
Trivia
His catchphrases are so well-known that some of them appear in the famous Oxford Dictionary of Quotations.
His second wife was his original 'Generation Game' co-star, Anthea Redfern, whom he'd always ask to "Give us a twirl" on said show. He has five daughters from his first two marriages, and also a son by his third wife, Wilnelia Merced. Wilnelia also used to appear, albeit occasionally, on "The Generation Game" (the 1990's version in this case) as Bruce's dancing-partner.
He can play the accordion, ukulele and banjo.
His real name is Bruce Joseph Forsyth-Johnson.
He appears in the Disney film Bedknobs and Broomsticks as Swinburne.
In the US, he hosted a format called Hot Streak.
He appeared as a game show host in a 1986 episode of "Magnum P.I."
He also appeared as a long-suffering supermarket manager in ITV's "Slinger's Day" in the late 1980's, a spin-off from "Tripper's Day", which had starred the late Leonard Rossiter in a virtually identical role - but neither incarnation proved successful.
He also stood in for Terry Wogan on "Wogan" in 1987.
In his autobiography (and in a great many interviews too), he says that his one professional regret is that he allowed himself to become pigeonholed as a gameshow host.
In 2006, he collected his CBE from the Queen. After many years of seemingly half the British population asking "why hasn't he been knighted yet?", in 2011 he finally got his knighthood in the Queen's Birthday Honours.
He's a big fan of Prime Minister's Question Time and records it every week. In 2008, he described it as "pure vaudeville".[1]
Up to 2012, he has been on television every Christmas Day since 1972.
Books / Tapes
Bruce: The Autobiography (paperback) | (hardback) | (tape) | (CD)
Contact
Bruce Forsyth Enterprises Ltd, Straidarran, Wentworth Drive, Virginia Water, Surrey, GU25 4NY
Web links
See also
Weaver's Week profile (part one and part two)
Feedback