Chris Jarvis
Line 22:
Line 22:

He once appeared on the Chucklebrothers' show, and provided the voice for the modern-day audiobooks of ''Henry's Cat''.

He once appeared on the Chucklebrothers' show, and provided the voice for the modern-day audiobooks of ''Henry's Cat''.

+
+

== Contact ==

== Contact ==
---
Revision as of 10:57, 10 June 2007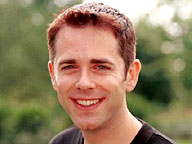 Biography
Kids TV presenter and impressionist, probably best remembered for playing the character of The Anorak on Children's BBC (catchphrase: "No-one beats The Anorak!"). He's also been the voiceover for the post-Walker era of Catchphrase.
Trivia
He once appeared on the Chucklebrothers' show, and provided the voice for the modern-day audiobooks of Henry's Cat.
He has hosted at least two other game show pilots that never made it to air, Who Wants to Date a Millionaire? and Talkin' 'bout My Generation, both for LWT.
Contact
c/o Blackburn Sachs Associates, 2-4 Noel Street, London W1F 8GB
Web links
Artist page at Blackburn Sachs Associates
Feedback