Gameshow Marathon
Line 4:
Line 4:

== Host ==

== Host ==

-

[[Ant McPartlin|Ant]] & [[Declan Donnelly|Dec]]

+

[[Ant McPartlin|Ant]] & [[Declan Donnelly|Dec]]

+

 

+

== Co-hosts ==

== Co-hosts ==

Line 12:
Line 14:

== Broadcast ==

== Broadcast ==

-

Granada London for ITV1, 17th September 2005-29th October 2005

+

Granada London for ITV1, 17th September 2005-29th October 2005

</div>

</div>

Line 18:
Line 20:

== Synopsis ==

== Synopsis ==

-

To mark ITV's 50th anniversary (and also, we suspect, try out various old shows for a potential full-scale revival), Ant &amp; Dec presented this series of one-off revivals during the autumn of 2005.

+

To mark ITV's 50th anniversary (and also, we suspect, try out various old shows for a potential full-scale revival), Ant &amp; Dec presented this series of revivals during the autumn of 2005.

For more info, please see the pages for the individual shows:

For more info, please see the pages for the individual shows:

Line 29:
Line 31:

*[[Play Your Cards Right]]

*[[Play Your Cards Right]]

*[[Take Your Pick]]

*[[Take Your Pick]]

+
+
+
+

== Trivia ==

== Trivia ==
---
Revision as of 22:13, 28 November 2006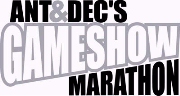 Synopsis
To mark ITV's 50th anniversary (and also, we suspect, try out various old shows for a potential full-scale revival), Ant & Dec presented this series of revivals during the autumn of 2005.
For more info, please see the pages for the individual shows:
In addition to Challenge's revivial of Bullseye, both Family Fortunes and The Price is Right were brought back for full runs afterwards.
It will return with that other ITV showbiz "cupple", Tess Daly and Vernon Kay.
Trivia
Perhaps surprisingly, this umbrella format has actually been sold abroad. Granada have made a version for CBS, using old American game shows, FreMantle are to make a French version, and there's also a German version in the pipeline (we're pulling for Maus Res Auss, Riskier Was!, Punkt, Punkt, Punkt!, Die 100,000-DM Show, Glucksrad and Geh Aufs Ganze for that one, obviously).
Feedback