Tess Daly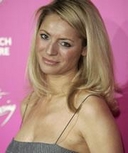 Biography
Former model and dancer who appeared in pop videos for the likes of Duran Duran and Soul II Soul before breaking into TV courtesy of The Big Breakfast. Biggest gig to date has been Strictly Come Dancing, where she was paired up with Bruce Forsyth, 114 years her senior.
Trivia
Married to Vernon Kay. Gave birth to her first daughter, Phoebe, in October 2004.
She appeared, nude, in the video for "Sweet Harmony" by The Beloved, a group fronted by former Countdown octochamp Jon Marsh. Small world, innit? She was also in the videos for two of Duran Duran's lesser hits, '"Serious" and "Violence of Summer".
Web links
Feedback