Holly Willoughby
Line 31:
Line 31:

Born in Brighton in 1981, Holly Willoughby made her television debut on ''S Club TV'', a spin-off from the S Club 7 band. She became a regular on the BBC, before moving to ITV in 2004, to host music show ''CD:UK'' and the Saturday morning shows ''Ministry of Mayhem'' and [[Saturday Showdown]]. She is currently the female host of [[Dancing on Ice]] and has become the new face on This Morning, replacing [[Fern Britton]].

Born in Brighton in 1981, Holly Willoughby made her television debut on ''S Club TV'', a spin-off from the S Club 7 band. She became a regular on the BBC, before moving to ITV in 2004, to host music show ''CD:UK'' and the Saturday morning shows ''Ministry of Mayhem'' and [[Saturday Showdown]]. She is currently the female host of [[Dancing on Ice]] and has become the new face on This Morning, replacing [[Fern Britton]].

-

She won the 2006 Children's BAFTA as Best Host for the [[Saturday Showdown]].

+

She .

== Trivia ==

== Trivia ==

Before TV presenting, she was a model for Pretty Polly bras.

Before TV presenting, she was a model for Pretty Polly bras.

+
+

== Web links ==

== Web links ==
---
Revision as of 19:30, 14 April 2011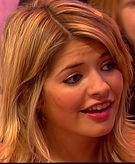 Biography
Born in Brighton in 1981, Holly Willoughby made her television debut on S Club TV, a spin-off from the S Club 7 band. She became a regular on the BBC, before moving to ITV in 2004, to host music show CD:UK and the Saturday morning shows Ministry of Mayhem and Saturday Showdown. She is currently the female host of Dancing on Ice and has become the new face on This Morning, replacing Fern Britton.
She married TV producer Dan Baldwin in August 2007. The couple have two children together, a son named Harry, born in May 2009, and a girl named Belle, born in April 2011.
Trivia
Before TV presenting, she was a model for Pretty Polly bras.
She won the 2006 Children's BAFTA for Best Host for Saturday Showdown.
Web links
Feedback