Jeremy Beadle
Line 19:
Line 19:

[[Lucky Numbers (1)|Lucky Numbers]] (scriptwriter)

[[Lucky Numbers (1)|Lucky Numbers]] (scriptwriter)

+
+

[[Puzzle Trail]] (writer, series 2)

[[Puzzle Trail]] (writer, series 2)
---
Revision as of 10:19, 8 June 2006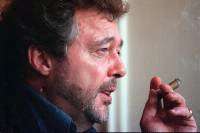 Biography
There's no getting away from his love-hate relationship with the public. Although his practical jokes shows, such as Game for a Laugh, Beadle's About and People Do the Funniest Things, have always been popular (with over 20 series under his belt), you won't find many people admitting that they like Beadle the man (unless they've actually met him in person).
Jeremy is a trivia buff - particularly a chronicler of events that happened on particular days. His Today's the Day slot on GM-TV was one of his early television appearances, as was Eureka, a children's programme about inventions for the BBC.
Despite his somewhat unfair reputation, he knows how to get a crowd on his side - not many people can say they've worked as a tour guide, radio presenter, conference speaker, circus ringmaster and TV host.
A Londoner by birth, he suffers from Poland Syndrome, a condition which stunted the growth of his right hand. He spends a large part of his spare time doing charity work.
Trivia
He was once voted the third most hated person in Britain... behind Saddam Hussein and Anneka Rice.
Books / Tapes
Jeremy Beadle's Beginners Guide To Practical Joking (video)
Contact
MPC Entertainment, MPC House, 15-16 Maple Mews, London NW6 5UZ.
Web links
Feedback