Celebrity Squares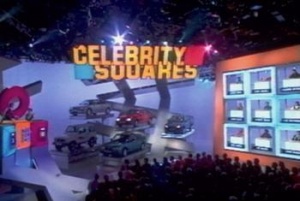 Host
Bob Monkhouse (1975-9, 1993-7)
Tom Binns (non-broadcast pilot)
Warwick Davis (2014-5)
Co-hosts
Voiceover:
Kenny Everett (1975-9)
Nick Jackson (1993-7)
Regular panellists:
Tim Vine (2014-5)
Joe Wilkinson (2014-5)
Broadcast
ATV for ITV, 20 July 1975 to 7 July 1979 (138 episodes in 4 series)
Central with Reg Grundy Productions for ITV, 8 January 1993 to 3 January 1997 (57 episodes in 3 series)
Co-produced by Carlton UK Productions, 1995-97
So Television for five, 2003 (non-broadcast pilot)
September Films and GroupM Entertainment for ITV, 10 September 2014 to 7 June 2015 (14 episodes in 2 series + 1 special)
Synopsis
It's the show about "stars and cars".
Noughts and Crosses with a twist. Inside each box is a celeb and Bob asks a question to them. If the contestant can then say correctly if the celeb got the question correct or wrong then they win that square, some money and have their little symbol implanted within it. If they can get three in row or five in total then they win the round and a mega bonus.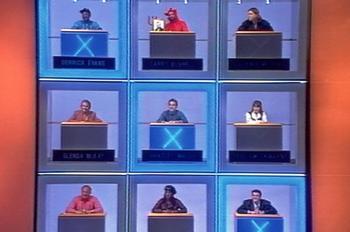 3 lives gone, so the Johnson family get the chance to steal.
During one round, one of the celebs is holding the mystery holiday. If they pick them, then respond correctly they not only win some money but also win a holiday.
After the break they play for double the cash, and if they fit any more rounds in they redouble each time. When the buzzer goes whoever has the most money goes forward to the Monkhouse Motor Show where they can win a car.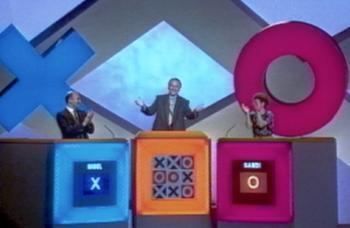 And that's my joke folks. Clap if you get it.
They select one of five at random by prodding a button as the lights flash. Once one has been selected, the player picks one of three categories. Within 30 seconds, the player must then give nine answers out the top 20 given by members of the public.
For every one they get, one the boxes light up. If they light up all nine they win the car. If they don't, they don't.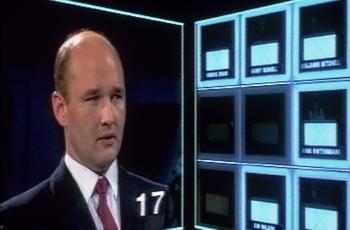 The end game in progress.
O! X!
The format's simplicity, and a certain nostalgia, brought it back on many occasions. ITV's third run began in 2014, hosted by comedy actor Warwick Davis. The rules were the same, the duration was doubled - Celebrity Squares now ran for a full hour. While there were new rounds, such as the personal stories of "Square Essentials", general opinion suggested that the show didn't have enough pace to last a full hour, and for its second series it ran only for 45 minutes.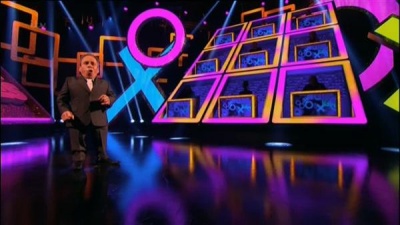 Warwick stands in front of the big box board.
The endgame changed slightly: the player is now going for £20,000 cash, which they'll get if they name nine answers in a particular category within 30 seconds. In series 2 this was increased to £25,000.
Two comedians - Tim Vine and Joe Wilkinson - were booked for the whole series. Centre square was taken by an ITV name, such as Bradley Walsh or Keith Lemon. As in all previous versions, the other squares were filled by established comics, rising stars, and general entertainers, so that the show might offer something for everyone.
Key moments
Usually Willie Rushton or Frank Carson livening up proceedings in the centre square.
Catchphrases
(At the beginning of the show): "Hello, celebrities!" and their response: "Hello, Bob!". Warwick changed this slightly, to "Hello, squares!"
"One of our celebrities is sitting in the Secret Square...!"
"Do you agree or disagree?"
"Cross (or zero) gets the square - no money is won!"
"I can imagine where you're going next!"
"Cross cannot get the square - it's game point - if you want a cross in (whoever's) square, you must put it there yourself!"
Inventor
Based on the US format Hollywood Squares by Merrill Heatter and Bob Quigley (who also created Gambit).
Theme music
1975-9: Jack Parnell
1993-7: Rick Turk
2014-5: Invader Plus
Trivia
Squares replaced Bob's previous show, The Golden Shot.
Prizes in the first series included holidays to Romania, carpets and washing machines. The 18-foot high game board cost £22,000 to build, which converts to about £160,000 in today's money. The celebrities received £60 for appearing.
The celebrities on the "big box game" on its very first Sunday were: Leslie Crowther (later host of The Price is Right), ample actress Diana Dors, actress Hermione Gingold, actress Aimi McDonald, comedy actors Alfred Marks and Arthur Mullard, creepy actor Vincent Price, writer and wit Willie Rushton, and broadcasting blarney-master Terry Wogan (later host of Blankety Blank and You Must be Joking).
Question writers included Jeremy Beadle, Ian Messiter and Bob himself.
According to the BBC4 documentary The Secret Life of Bob Monkhouse, nearly all of the 138 episodes from the ATV series were wiped from the station's archives. But Bob Monkhouse saved 40 episodes in his private collection of video cassettes he recorded off-air in the four years of the ATV series.
The 1990s revival dotted about the ITV schedule. The 1993 series was consistent, all episodes were shown at 7pm on Friday night at the start of the year. The 1994 series started in the same slot, but seven episodes were shown on summer Saturday nights abutting Scavengers. The 1995 series moved to summer Friday nights, with the rest held over to the following year.
In 2003, a version by Graham Norton's TV company, So Television, was planned. It was going to be joshingly entitled Soho Squares until the format licensors nixed the idea when they heard what sort of thing goes on in Soho. Originally the revamp was touted at Channel 4, but they passed leaving Channel 5 to cough up the money for a pilot with Tom Binns on hosting duties, as can be seen from the clip below.

Don't look now, it's the Channel 5 pilot.
Originally the show ran for 40 minutes. The 1990s version ran for half an hour, doing away with a round where Monkhouse posed questions from viewers. The first 2010s series ran for an hour, while the second ran for 45 minutes. We have no information on how long Tom Binns' version would have run for.
Web links
British Comedy Guide entry (2014 revival)
Pictures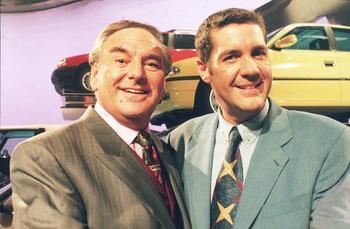 I like Celebrity Squares and I like Supermarket Sweep. But which one is better? There's only one way to find out...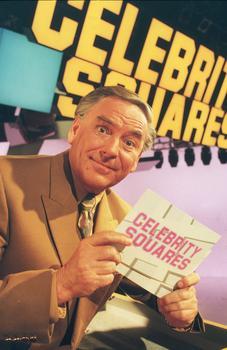 Now this is how a game show host holds a question card.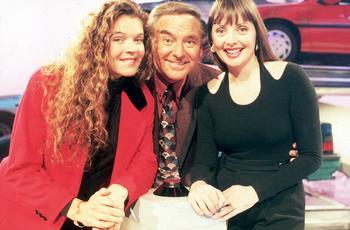 I like Countdown and I like Interceptor. But wh--Oh, wait. I've already done that joke.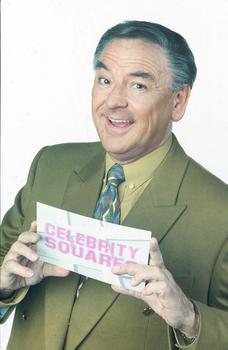 Now this is how a ga--Never mind.
See also
Weaver's Week: retrospective (2013) and 2014 revival
Feedback