Kirsty Gallacher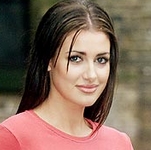 Biography
Sky glamourpuss and daughter of former Ryder Cup golf captain Bernard Gallacher. She once appeared on Blue Peter as a gymnast. Now presents the footie for the Murdoch empire.
Trivia
Her Sky One bloopers show, Kirsty's Home Videos, was revealed by a tabloid newspaper to be one of the Queen's favourite shows.
While on The Games, she complained how, as an attractive woman, it was difficult to be taken seriously... a couple of weeks before releasing her swimsuit calendar.
Web links
Feedback