Kirsty Gallacher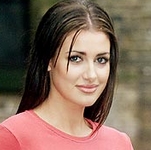 Biography
Daughter of former golfer Bernard Gallacher, Kirsty was born in Edinburgh and raised on the Wentworth Estate in Surrey (hence her lack of Scottish accent). She joined Sky Sports in 1996 as a production assistant, before going on to present Sky Sports News for 20 years. Her non-sport presenting roles have included Sky One's equivalent of You've Been Framed!, Kirsty's Home Videos, and Channel 4's unsuccessful breakfast show RI:SE. Often regarded earlier in her career as being there solely because of her looks (and it wasn't uncommon for her to pose for FHM and the like), she's turned out to be a safe pair of hands.
Trivia
During her childhood at Wentworth, her neighbours included one Bruce Forsyth.
The aforementioned Kirsty's Home Videos was revealed by a tabloid newspaper to be one of the Queen's favourite shows.
Contact
Web links
Feedback