Let's Get Gold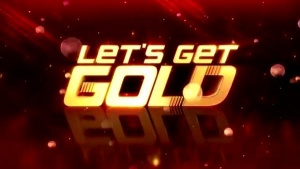 Host
Co-hosts
Judging panel: Rio Ferdinand, Freddie Flintoff, Una Healy, Martine McCutcheon
Broadcast
Thames / Superhero for ITV1, 5 to 7 July 2012 (3 episodes in 1 series)
Synopsis
According to the ITV press release, sports teams from across the UK attempt to use their sporting skills to put on a spectacular show and win a £100,000 prize for their sports club. A panel - two retired England sportsmen and two women singers - gave their opinions, the studio audience determined which teams progress from three heats to the grand final, and which winner took home the money.
The press release included a remarkable quote from show creator Sebastian Scott. "Let's Get Gold is like the Posh and Becks of talent shows, combining Britain's two biggest passions: sport and entertainment."
If you can help us to expand this entry, please provide as much information as possible, using the feedback form below.
Inventor
Sebastian Scott of Predictable Media.
Champion
Acropolis, a team of male acrobatic gymnasts.
See also
Feedback