Weaver's Week 2005-10-16
'Iain Weaver reviews the latest happenings in UK Game Show Land.'
And now the questions go up - 16 October 2005
What links Playing for Time, The Waiting Game, Boys and Girls, and Wonky Donkey?
"Oh dear, not these three again." When making these shows, ITV took a gamble. They hoped that we would be prepared to watch the same people playing different games each week. It's not so. For the fourth week running, we were treated to the various delights and talents of Vernon Kay, Ruby Wax, and Eamonn Holmes. The novelty is beginning to wear off, replaced by a clear ennui. Every week, the same faces. Every week, the same jokes. Every week, no-one mentions that these people have hosted game shows already. And this week, a format that just didn't click into place.
At heart, Sale of the Century was a simple format. Nicholas Parsons would ask questions, there would be a few instant sales, but most of the game was simply question, question, question, as fast as the Parsons could throw them out. There was no chitter-chatter with the contestants before the game, merely a perfunctory "Hullo," and on with the show. It went by so quickly that no-one could get bored.
When Antan Dec got to play, that killer element - the speed - went out. We suffered yet another long and laborious set of introductions, and in spite of the competitive instincts of all concerned, the programme never moved out of second gear. The instant sales were treated as a joke, and there was a "fame game" board included for no reason other than to increase the viewer prize pot, and to encourage people to phone in and cover ITV's costs. Was there meant to be a cash qualification to be able to go for the car? Never mind, that can go, otherwise there will be no car, and no reason for the viewers to call in.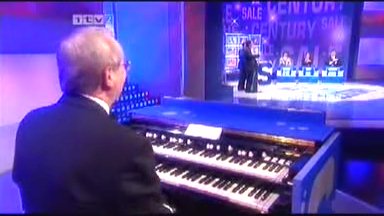 It would be unfair to say that this was bad television, though. The banter between host and guests, and amongst the guests, was often far more entertaining than the quiz. We don't have enough people playing the organ live on national television, as this show had. (Gratuitous picture, right.) And one question on the "fame game" began: "Who am I?" At this point, some smart alec (or smart Ruby) should have buzzed in and said "You are Dec" for they would have been correct and saved us thirty seconds of spiel, and the memory of that pop classic Let's Get Ready to Rhumble.
At the closing credits (and why does Fremantle (Thames) get a credit each week?) Vernon Kay, a monkey from Bolton, had won through. The chances of Antan Dec's Sale of the Century becoming a regular fixture had not. There's no replacing Nicholas Parsons.
Back to the Ronnie Barker Tribute, and the second batch of questions from the Answering the Question Before sketch.
"What is the difference between a donkey and an ass?
"Complete the quotation, 'To be or not to be'
"What is Bernard Manning famous for?
"Who is the present Archbishop of Canterbury?
"What do people kneel on in church?
"What do tarantulas prey on?
More of this next week.
Final eliminator, 2/6
Mary Willmot is taking the Partnership of Rodgers and Hammerstein. The Sound of Music, Oaklahoma!, Carousel, and other classics all get a name-check. Wonder if BBC2 will put on a season if she wins. Unlikely, a score of 10 (4) doesn't look promising.
Peter Wright will talk about the History and Culture of the Maya. Some of these questions are obnoxiously long, especially given the tongue-twisting names, even worse than in his Welsh Princes round back in April. No errors, no passes, just 16 points. Could still win.
Derek Moody has Queen. That's the rock group, just for clarity. Another sparkling performance, just the one error, but for a group that's been active for thirty years, there's precious little on their career since 1980. 16 (0).
Mike Palfrey has been swotting up on the Literary Work of Lewis Carroll. It was Terry Pratchett last time. He keeps talking to get one particular question right, and finishes on 15 (0).
Mrs Willmot talks of her role in the chorus line of South Pacific back in her youth. Her general knowledge rounds takes her to 17 (7), so sadly the run of musicals will have to wait another week. They've got plenty of episodes of The Good Life to show yet - she won with that back in September.
Mr Palfrey is a great fan of the Cheshire Cat. Wonder if he's read Jasper FForde's Thursday Next series, where Carroll characters - and the Cat in particular - play significant parts. His round starts well, but falls into a pass trap, finishing on 22 (4).
Mr Wright talks about the bloodthirstiness of the Maya. A myth: the Aztecs were far nastier, anyone who couldn't get across a log and grab some treasure without falling into the pond beneath got locked in a cell. It's not a perfect round, but no-one's going to mess with 30 (2).
Except Mr Moody, perhaps. He had I, Claudius last time, and this time talks about the ground-breaking aspects of Queen's career. Mr Moody goes at a pace, but mistakes Paddy Doyle's given name, and falls agonisingly short at 28 (0).
And what's with the host announcing the final score as "twenny-eight"? Does he not take any care over his diction? The pedants of language will be baying for his blood!
First round, match four: Liverpool v Hull
Hull were last amongst us two years ago, losing to Bangor and St John's Oxford. Their best performance is a respectable semi-final defeat in 2001, defeating that year's favourites Balliol Oxford in the quarter-finals. Liverpool's last outing, three years back, saw a heavy loss to Worcester Oxford. Alarmingly, the institution has only once progressed to the second round, and that was back in 1995 - Sheffield were the defeated side, and the aggregate of 250 was a record low until 2003. We don't wish to rub it in, but a loss for Liverpool here would mean one win in five matches over four years, compared with Birmingham's one win and a draw in six matches over four years. A lot is at stake tonight!
Two people from Bradford this week, and some well-rounded teams, both concocted for the show. Liverpool has two postgrads, which tends to be an advantage. Hull includes a particularly fine hat, which may not.
Liverpool has by far the better of the opening exchanges, helped by an entertaining round on appearances of Halley's Comet. The first visual round is amongst the most arcane ever, asking people to memorise the rents on a game of Monopoly. Even Trivial Pursuit never went this trivial. Very good idea for questions, though.
Hull's mathematician misses the geometric expansion of everyone's favourite number e, and Liverpool misses a set of bonuses on Penrose tiles, including the anecdote about toilet paper. They're also wrong to suggest that Strauss wrote "The Star-Spangled Banner" before scoring a double-century for England, but it's an entertaining idea.
Hull ends a painful run of missed starters, but it's Liverpool who get the audio round, children's television theme tunes. The lead is 115-25 at this point, and honours are just about even in the third stanza. The second visual round is about poisonous spiders, after which Liverpool's lead is 175-55.
Liverpool rides their luck with a late answer to one question, and this is a clear, if not entirely convincing, victory for the team. Much of the doubt is because we just don't know how good the side is when we're comparing them against weak opposition, but it doesn't feel like they could beat Trinity Hall from last week. The last segment runs in Liverpool's favour, and the final score is 275-70.
Best buzzer for Liverpool was Andy Scaife, whose 99 points included a 0-bonus, three 1-bonuses, two 2-bonuses, a 3-bonus, and a missignal. Paul Thompson was the only Hull player to get two starters right, his 25 is the best buzz. Liverpool made 24/45 bonuses, which isn't championship material; and one missignal, which probably is. No missignals from Hull, but just 4/15 bonuses.
Next: St Hilda's Oxford v Durham
This Week And Next
Test The Nation, The National English Language Test really should have come with a money-back guarantee. Ten of the 70 questions were not about language, but were about short-term memory of spoken passages. Others were about local slang, which may or may not fit the definition of English. John Humphrys was a bit of a wasted panellist, but Susie Dent was exactly the right choice to explain some of the more novel developments in the language. Star of the show was Saira Hussein, who almost won The Apprentice, and sparkled under the show's format.
Good news from Channel 5, which is going to move up-market again. "No more reality shows," says channel boss Dan Chambers. The Farm has gone, there won't be another Celebrity Driving School. This is good news. Any chance of a return for The Mole, Mr Chambers?
Encouraging noises from Channel 4, where Countdown has been given a transmission date. Des will make his debut in the hot-seat on 31 October, most probably for transmission at 3.30pm. The same day will see the return of Noel Edmonds; the bearded jumper will be the host of Deal or No Deal at 5pm that day. It'll be his first new television series of the decade, and the first time he's regularly been seen anywhere other than on the BBC.
Even better news from Austria: Alf Poier may yet grace the Eurovision stage again. Though Austria's public broadcaster ORF says they won't take part in next year's contest, their commercial rivals ATV+ say they want to take part. The channel is not a member of the EBU, which would appear to present a rather impenetrable road-block. Still, where there's a will, there's a way. And little rabbits have short noses. And kittens soft paws.
All competent national broadcasters across Europe will be broadcasting Congratulations, the 50th anniversary Eurovision event, next Saturday night. On the BBC, there's another run for Eggheads and Come Dancing from 6pm nightly, and Des Lynam is with Jonathan Ross next Friday night.
To have Weaver's Week emailed to you on publication day, receive our exclusive TV roundup of the game shows in the week ahead, and chat to other ukgameshows.com readers sign up to our Yahoo! Group.